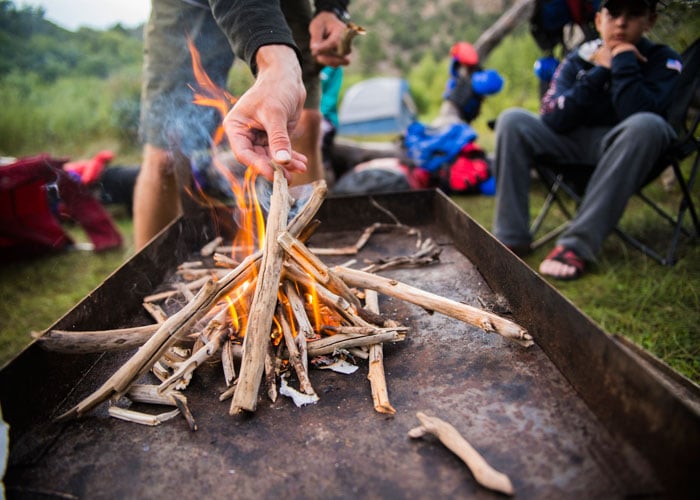 Planning Guide for Colorado's Arkansas River Basin
The Arkansas River Basin is a popular summer vacation spot in Southwest Colorado. It's a good idea to plan ahead if you want to experience all the area has to offer. This blog will help you find the nicest places to stay, coolest activities, tastiest restaurants and best shopping for 2018.
PRO TIPS:
Lodging and camping is limited – book early
Don't get left in the cold! Many of the region's hotels and campgrounds sell out six months to a year in advance. Book your lodging and camping right away for the best summer stay.
Plan rafting around the runoff – book now for the best deal
Are you looking for the most exciting trip possible? Plan your trip late-May through June. Do you want a family-friendly raft trip? Book in July or August. There is almost always something for everyone – just pick the right trip for your group.
Online Rafting Sale
Book now, raft April – September
The River Runners Early Bird Whitewater Rafting Sale is live. Book online to get 40% off full-days and 20% off half-day and overnight rafting trips. Questions? Call 800-723-8987. Offer expires February 5, 2018.
15% off full-day tours – enter Online15
15% off half-day and overnight tours – enter Online19
No definite date? No problem! No hassle rescheduling with two-week notice
Offer expires March 20, 2018
Visit the Arkansas River Basin in Colorado
Now this is Colorado!
The Arkansas River flows through Buena Vista, Salida and Cañon City, Colorado. It's steep decent through valleys and canyons make for 150 miles of world-class fishing and whitewater boating. Plus, there are lots of other outdoor activities in the area. Not to mention, local libations, art galleries, restaurants and more. Check out this quick guide to Colorado's Arkansas River Basin, and book your summer vacation like a pro.
Must-do whitewater rafting trips

Raft Colorado's Arkansas River

The Arkansas Headwaters Recreation Area offers 150 miles of world-class whitewater ranging from beginner class I to extreme class V rapids and everything in between. Be sure to hire an outfitter for the safest experience.

More fun things to do

Explore Colorado's high country

This area of Colorado is an outdoor mecca. Mountain biking, off-roading, hiking, fishing, climbing and more can be found within minutes of these low-key mountain towns.

Buena Vista, CO

Mountain biking – check out the Midland Trail
Hike the Colorado Trail
Horseback riding – tours with Colorado Trail Rides
Summit a 14er – the Collegiate Peaks
Soak in Hot Springs – Mount Princeton or Cottonwood
Visit a local brewery or distillery – Eddyline Brewery or Deerhammer Distilling Company

Cañon City, CO

Royal Gorge Route Railroad
The Dinosaur Museum – next door to River Runners at the Royal Gorge
Horseback riding – Royal Gorge Stables
Mountain biking – Oil Well Flats
Rock climbing – Shelf Road

The nicest places to stay

Stay in style

There are your budget-friendly run of the mill hotels, but if you want to relax in style try one of these unique places to stay.

Buena Vista, CO

Surf Hotel – Brand new hotel opens in May
Surf Chateau – Book now
South Main Vacation Rentals

Salida, CO

Amigo Lodge
The Palace Hotel
Simple Lodge – Salida hostel
Vacation Rentals – VRBO

Cañon City, CO

Airbnb.com – search "81212"
Royal Gorge Cabins
Prospectors RV Resort

The best camping

The stars are bright

Whether you're looking for solitude, convenience, or both – plan ahead for the best camping in the valley. National Forest and BLM lands are free, but first come, first serve.

Buena Vista, CO

River Runners at Browns Canyon – four group camps plus event space
Buena Vista KOA – book in advance – 5 minutes from River Runners
Chalk Creek Campground – book in advance
BLM and National Forest (FREE) – arrive early

Cañon City, CO

Prospectors RV Resort
Royal View Campground
Royal Gorge KOA
BLM and National Forest (FREE)

Tastiest restaurants

Just say no to chain restaurants

These towns are not known for chain restaurants, but you won't mind once you've experienced the local flavor.

Buena Vista, CO

Riverside Grill – seasonal
Asian Pallet – sushi and more
Eddyline Restaurant – Burgers, pasta and pizza
House Rock Kitchen – health conscious stop for burgers, sandwiches and bowls
Evergreen – the best breakfast in town

Salida, CO

Boathouse Cantina – great food and atmosphere
The Fritz – American gastropub with globally inspired dishes
Amicas – wood fired pizza and sandwiches
Currents – steaks and seafood
Mama Ds – sub sandwiches and giros

Cañon City, CO

Pizza Madness – pizza!
Owl Cigar Store – great burgers and good value
Whitewater Bar & Grill – seasonal American pub
16th Street Cafe – soups and sandwiches
El Alazan Mexican Restaurant – authentic Mexican food

Best shopping and art galleries

Local art, collectibles and more

No strip malls here, but there are plenty of one-of-a kind arts, gifts, clothing and collectibles – plus your outdoor gear needs.

Buena Vista, CO

CKS Main Street – rafting, kayaking, stand-up paddle boarding and more
The Trailhead – backpacking and camping supplies
Boneshaker – cycling
Sundog Colorado – antique collectibles
Sundance and Friends – art gallery and collectibles

Salida, CO

Salida Mountain Sports – local sporting goods
Eye Candy – art gallery representing over 30 artists
Howl – craft coffee and artisanal craft goods
Yolo Clothing – women's clothing store
Ruby Blues – vintage clothing store
Wanderlust

Cañon City, CO

The Gold Mine Rock – rocks, gems, sapphires and more
Red Mountain Cycles – bicycle shop