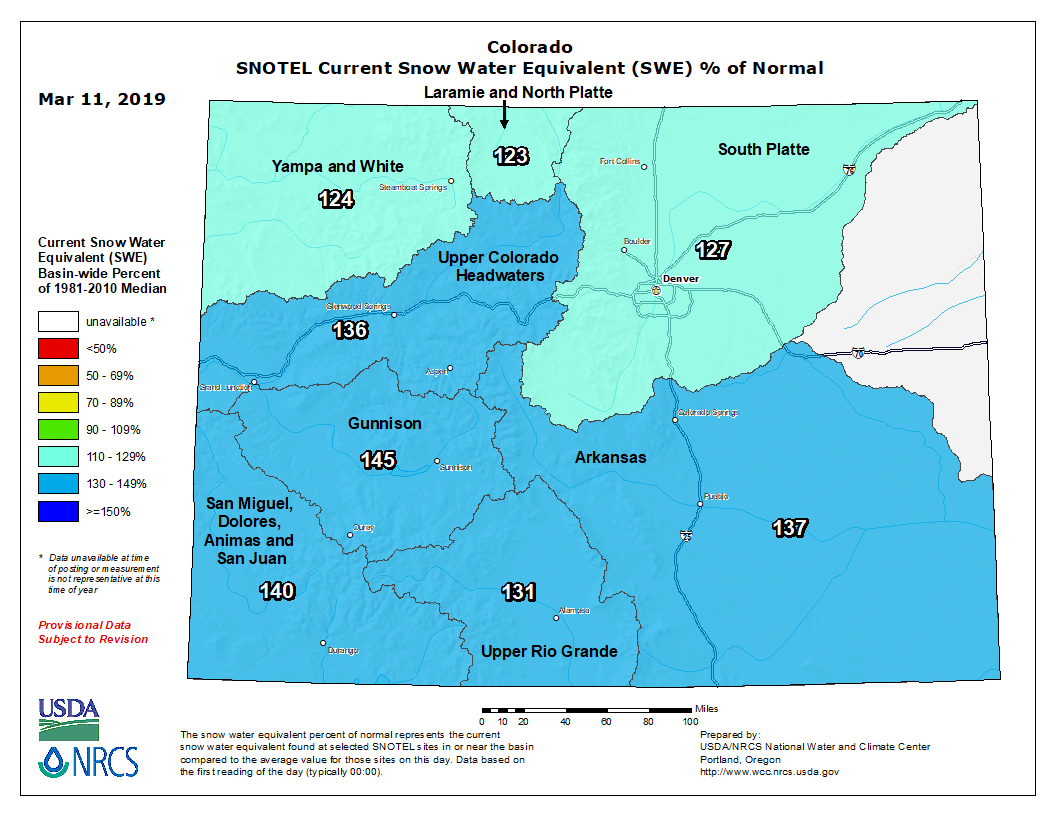 Colorado snowpack above normal snow water equivelant
It has been an awesome ski season in Colorado which will roll into an amazing whitewater rafting season this summer. Colorado statewide snowpack is 129% of normal as of March 11, 2019, according to the Natural Resources Conservation Service (NRCS). This means Colorado's creeks and rivers will be high during runoff which starts as early as mid-April in some areas and goes through June.
Arkansas River Basin snowpack update and whitewater rafting outlook
The Arkansas River Basin Snowpack is 137% of normal, 234% of last year, and 113% of average peak (normal peak date is April 11), according to NRCS. The upper basin that is most important for whitewater rafting conditions on the Arkansas River is 159% of normal. There is still about a month of the snowpack accumulation season, but it's pretty safe to say we are not expecting a low water year on the Arkansas River in Colorado. Learn more about planning your Colorado rafting trip in a high-water year.
SPRING SALE
20% Off Full Day Rafting Tours – PROMO CODE: Spring20
10% Off All Other Rafting Tours – PROMO CODE: Spring10
Raft May 18 through Labor Day
Offer expires April 1, 2019
Questions? Call 800-723-8987
More winter coming
"The last hurrah of a very stormy pattern will occur this week," according to Joel Gratz at OpenSnow. The central mountains are forecasted for up to one foot of snow over the next 5 days.
Drought relief for Colorado
This has been a welcome winter for a state that gets roughly 80 percent of its annual water supply from snow. The U.S. Drought Monitor (USDM) classifies most of Colorado as being in some level of drought.