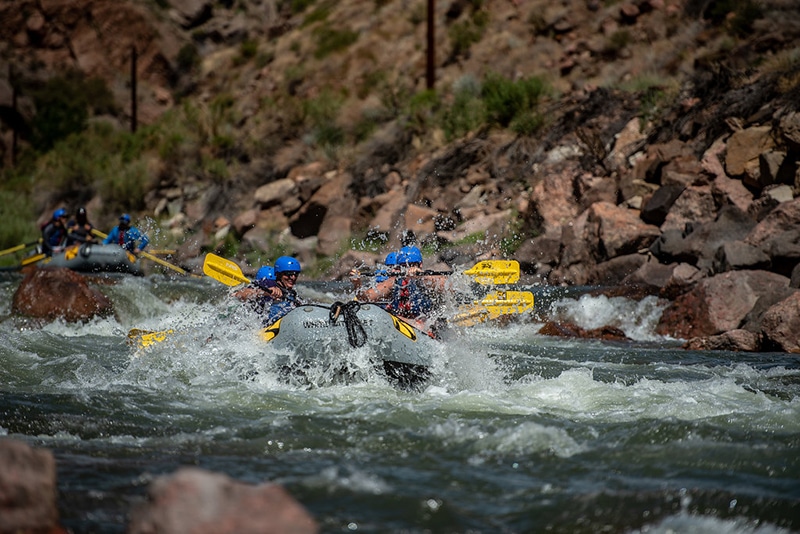 It's going to be a special year on the Upper Arkansas River
Every water year is unique in Colorado and 2019 is shaping up to be one of the best on record. Check out our tips below for planning your whitewater rafting trip to one of the most popular rafting destinations in the world.
20% Off Weekday Sale
20% Off All Rafting Tours Monday – Friday
PROMO CODE: Weekday
Raft now through Labor Day
Not valid with existing reservations
Questions? Call 800-723-8987
Where to go when planning your whitewater rafting trip
If you are staying in Colorado Springs, Denver, Breckenridge, Buena Vista, Salida, or anywhere in the southeast section of Colorado – the Arkansas River is where it's at. Choose from more than 100 miles of river starting with class II rapids on the Family Float to class IV+ rapids in the Royal Gorge. River Runners Royal Gorge is just one hour from Colorado Springs. River Runners Browns Canyon is just over one hour from Breckenridge and two and a half hours from Denver.
What are you looking for?
Beginner or intermediate rafting
Advanced whitewater
Overnight rafting trips
When to book
Peak season on the Arkansas River is mid-May through mid-August and in a year like this (current snowpack is 166% of normal) there will be awesome whitewater all summer long. Expect high water in June and early July, medium flows through mid-August, and low flows through September. If you come during high water be aware that age limits will also rise, but there will still be beginner rafting trips with fun and splashy whitewater.
PRO TIP: Book during the week to miss the crowds and save 20% at River Runners.
What about the kids?
The Arkansas River has many whitewater rafting trips for kids, but age limits vary with conditions. Rafting Browns Canyon or Bighorn Sheep Canyon are great options at most levels. Age limits go up in June but there are still options for kids as young as six years old during high water. This year kids as young as three should be able to raft the Family Float during late-July, August, and September.
What to wear
River Runners includes wetsuits, splash tops, neoprene boots, helmets and PFDs with all whitewater rafting tours. It is also a good idea to wear quick dry base layers – especially at high water or on cooler days. If you come during July and August you can usually skip the wetsuit and go with some board shorts and a quick dry t-shirt. Other items to wear include sunglasses, and a strap for sunglasses (sold at River Runners).
What to bring
You should come ready to raft with as little as possible, but it is good to bring a water bottle, sunscreen, and a couple of extra layers on cooler days. Please leave towels and large bags in the car. It is also customary to bring a little something extra for the guide if you enjoy your ride.