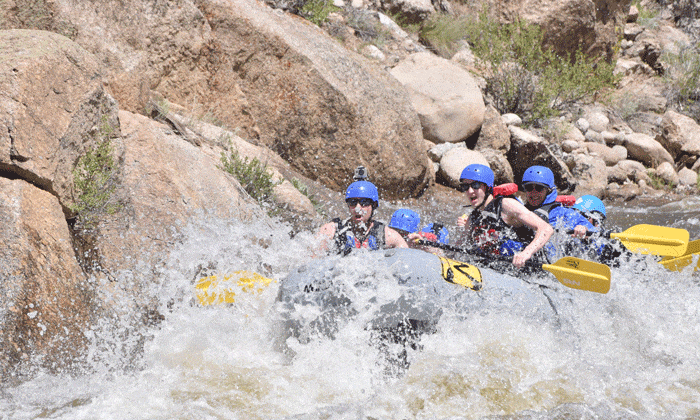 Raft the Arkansas River in Colorado
The Colorado rafting season is expected to start early and last longer than normal after an above average winter that does not want to quit. More snow is in the forecast for the Upper Arkansas River Basin, so we still don't know the final total. One thing is for sure though – it will be an amazing rafting season!
Current snowpack in the Arkansas River Basin
135% of normal
235% of last year
138% of normal peak (normal peak date April 11)
ONLINE SALE
10% Off Rafting Tours – PROMO CODE: Online10
Raft now through Labor Day
Questions? Call 800-723-8987
A comparison of other water years
Expect above average flows all summer
We do know it will be a high water year on the Arkansas River, but how does this year compare to other high water years?
The graph above shows that we have already eclipsed snowpack for most other high water years except for 1995 and 2011. Both of those years had extremely high peaks because of huge late-season snow totals. It's too early to know how this year will play out in comparison but we have already made the top three snowpack seasons on record.
Another factor to consider regarding flows on the Arkansas River is how much water will be imported through the Fry-Ark Transbasin Diversion project. As it stands, water managers expect around 91,000 acre-feet to be imported in 2019. This is slightly above 1995 (90,500 AF) and below 2011 (98,859 AF).
A couple more things to note about this year's snowpack is it currently stands as the highest on record for this date (April 18), and the snowpack has been above average for the entire season. This means there is a lot of old snow that will take longer to melt, which could help keep the peak in check and extend the season. This also depends on how hot it gets in May and June.
Regardless, we are looking at an awesome rafting season and there will be something for nearly all ages and abilities thanks to more than 100 miles of river and 30 access points. Check out our pro tips for whitewater rafting in Colorado this summer.