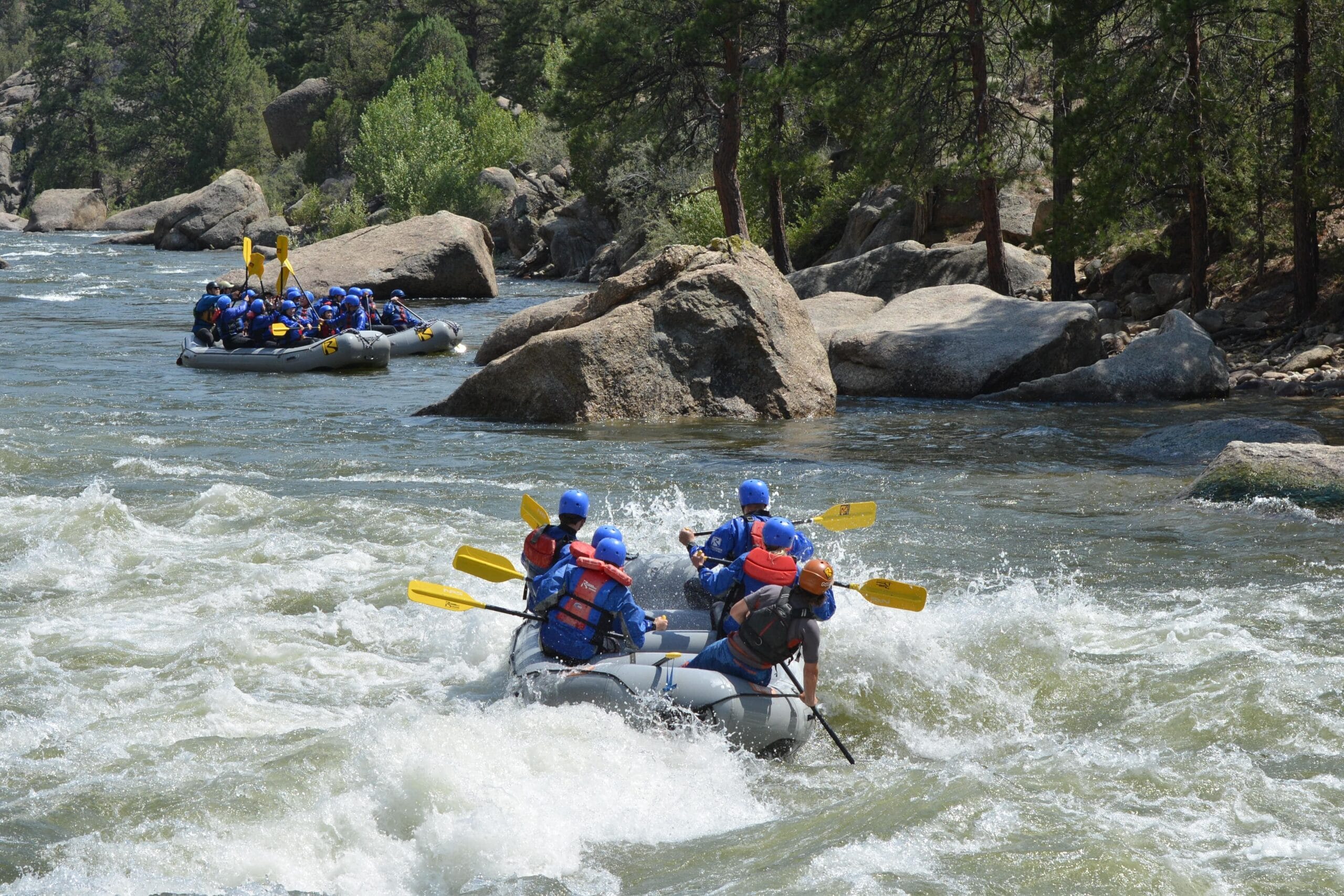 The Runoff has Begun on Colorado's Arkansas River
The Colorado rafting season is here and it's getting splashy on the Arkansas River. Flows are rising fast as the runoff picks up due to warm temperatures in the high country. It's 850 cubic feet per second (CFS) at the Nathrop Gauge as of May 10, and water managers are predicting an early peak – so book your high water rafting trip in late May or early June.
The current snowpack in the Upper Arkansas River Basin is 80 percent and the Voluntary Flow Management Program (VFMP) has its full allotment, so we should have plenty of water for another awesome whitewater rafting season.
The Numbers, Family Float, and Browns Canyon rafting tours are departing daily now through Labor Day. Raft the Royal Gorge and Bighorn Sheep Canyon starting this Thursday, May 12. Full day and overnight tours start May 20.
Save 10% when you book online using promo code: Online
Questions? Call 800-723-8987.
Celebrate 50 Years of Colorado Whitewater Rafting
River Runners has offered guided whitewater rafting tours on the Arkansas River since 1972. Help us celebrate 50 years of Colorado whitewater rafting in 2022.
Choose from two Colorado Rafting Locations
River Runners has two locations on the Arkansas River: River Runners Royal Gorge – just one hour from Colorado Springs, and River Runners Browns Canyon just two hours from Denver. Find the best rafting near Colorado's Front Range at River Runners – now through Labor Day.
The Riverside Grill Opens Friday, May 20
11 am – 8 pm Daily through August 21
You know it's officially rafting season when the Riverside Grill at River Runners opens for the season. Extend your river time all summer long.
Music on The Beach at River Runners

We have another amazing line-up of touring bands playing on The Beach at River Runners this summer. Check out the full music line-up here.