Raft the Royal Gorge with River Runners
Are you looking for the best whitewater in Colorado? Check out our five reasons to Raft the Royal Gorge.
Book now and Save
Online Rafting Sale
10% Off Rafting Tours – PROMO CODE: Raft10
Not valid with existing reservations
Discounts can not be combined
1. World-Class Whitewater
The Royal Gorge of the Arkansas River has one of the longest whitewater rafting seasons in Colorado – starting in April and going through September. You can experience exciting class IV (V) rapids at low, medium, and high flows with more than 15 named rapids including Sunshine Falls, Sledgehammer, The Grateful Dead, The Narrows, and Wall Slammer to name a few.
2. History
There is no shortage of history as you raft the Royal Gorge. You'll hear stories on topics ranging from Native Americans, famous explorers, and U.S. presidents, to railroad wars, human ingenuity, and renowned engineering. Hear about how the Utes and other native tribes used the Royal Gorge as a staging ground for buffalo hunts and favored the area for its mild winters. See markings from the Zebulon Pike expedition in 1812. Float by the hanging bridge where Teddy Roosevelt visited the park in 1907. See gun stations from the Royal Gorge Railroad War built in late 1870, and the wooden water pipeline built by prisoners in the early 1900s. Float 1,000 feet under the Royal Gorge Bridge – built in 1929.
3. Geology
Rafting through a 3.2-million-year-old piece of geologic wonder is awe-inspiring. You get to witness the gorge rise and form on your way in, float through 1,200-foot walls once in the middle, and then see the gorge diminish on your way out. It is a trip like no other.
4. Easy Access
You can raft the Royal Gorge just over one hour from Colorado Springs and two hours from Denver. The nine miles through the Royal Gorge makes for easy shuttle rides to the put-in and from the takeout. The put-in is located right off Highway 50 and the takeout is in Cañon City. This makes trip logistics easier than most stretches of the river.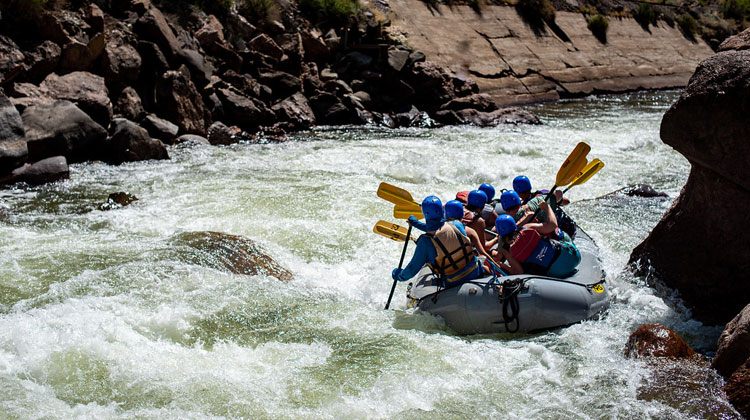 5. Warm Weather
Summertime highs can reach 100 degrees (f) in Cañon City, Colorado and there is no better way to cool off than getting splashed with whitewater. Water temps can reach 70 degrees (f) in late summer, which is much warmer than most other whitewater sections in the state.