Family Float Rafting Trip
Family Float Rafting Trip – Beginner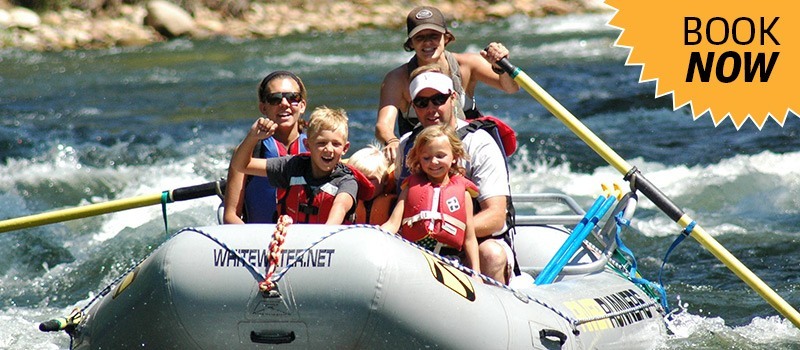 Quick trip facts:
*Minimum requirements and rapid classifications fluctuate with water levels. Please call for current conditions.
Family Float – Class II
Please book in advance
---
Call (800) 723-8987
---
11:00 am & 2:00 pm
Spring and fall trip times may vary. Click book to check availability. Processing and park fees added at checkout.
---
$45 / Person
Family Float: The Gateway to Excitement
Family Float rafting trip on the Arkansas River
Children don't like to be left out of the adventure because of their age or size. It's unfortunate that parents with smaller children have a hard time finding activities suitable for their active little ones. For anyone traveling with a child at least 35LBS, you can experience 1-1.5 hours of class II beginner Colorado whitewater rafting on the Family Float trip west of Colorado Springs.
Family Fun
The Family Float trip is the closest beginner level whitewater to Colorado Springs, located on the Arkansas River in Buena Vista Colorado, a scenic 2-hour drive west from Colorado Springs. Beginner level Class II rafting is mild whitewater with trickling rapids. Rafters are placed in an oar raft where the guide has all control of the raft while you are able to take in the gorgeous Colorado mountain scenery and hold on.
Colorado Float Trip for families
The Family Float trip encompasses 4 miles of Class I-II whitewater and children as small as 35LBS love the outdoor adventure, spotting wildlife on the river and craving more whitewater at trips end. The Arkansas River is the closest Colorado rafting river to Colorado Springs. The way the river runs, each mile along the Arkansas River has a variety of whitewater to suit different types of people. The only section of the Arkansas River in Colorado suitable for children as small as 35LBS is the Class I-II Family Float trip out of Buena Vista Colorado.
Adventurous Families
Families with slightly older children at least 6 years old and 50LBS weight minimum have a few more options, including intermediate class III – IV rafting. Bighorn Sheep Canyon rafting trips depart from Canon City, Colorado (45-70 minutes from Colorado Springs) or Browns Canyon family rafting trips depart from Buena Vista, Colorado (2-2.5 hours from Colorado Springs).
Family Float Rafting Details
Your rafting trip will start and end in Buena Vista, Colorado
If you are driving from Colorado Springs, Colorado please allow 2 – 2.5 hours, it is approximately 95 miles to Buena Vista, Colorado.
Advanced reservations for your Family Float trip are recommended.
Please meet at River Runners Rafting Resort 24070 County Road 301 Buena Vista, Colorado 81211.
Please arrive 1 hour prior to your trip time. This is to check in and be fitted with your rafting gear.
Once you check in please allow 1.5 hours for your rafting trip.
Once you arrive transportation will be provided up the Arkansas River.
Your Family Float rafting trip will raft right back to our Rafting Resort.
Professional photographers will take photographs of you while you are rafting.
After your Family Float rafting trip enjoy a free slide show of your rafting photographs.
Watch others raft by on the Arkansas River and enjoy some food and a drink at River Runners Riverside Grill.