Boy Scout Rafting
Boy Scout White Water Rafting Discounts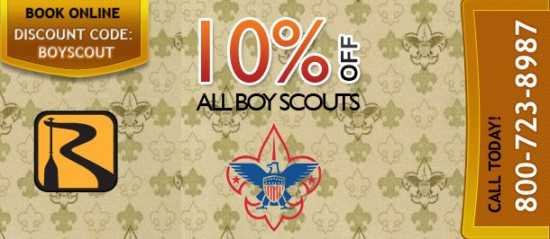 DETAILS:
1-10 10%
20 or more save 20%
30 or more please call
Not Valid with other offers
Start planning your Boy Scout Colorado rafting trip today
At River Runners you can choose from two convenient Colorado rafting locations on the Arkansas River and a wide range of rafting trips suitable for beginners to experts. Enjoy whitewater rafting, horseback riding and zip line tours near Buena Vista and Cañon City, Colorado with our adventure packages.
All Boy Scout troops get 10 percent off rafting at River Runners. Please call for larger group discounts.
link="http://www.whitewater.net/white-water-rafting-reservations/" type="big" color="green" newwindow="yes"] BOOK ONLINE[/button]
DISCOUNT CODE: BOYSCOUT
Call: 800-723-8987
Boy Scout Whitewater Merit Badge

DETAILS:
4 Mile Kayaking Trip
SPECIAL ADD ON PRICE for Browns Canyon
1/2 Day
Optional Lunch Add-on
Not Valid with other offers
The River Runners Whitewater Merit Badge Clinic covers all requirements for the BSA Whitewater Merit Badge and Kayaking Merit Badge. This four hour clinic is held on the Arkansas River from the River Runners Riverside Rafting Resort in Buena Vista, Colorado. Your troop will need to spend four to six hours preparing for the River Runners Merit Badge Clinic. Book any date May 1 – Labor Day with a minimum four Scouts.
link="http://www.whitewater.net/arkansas-river-whitewater-rafting-colorado/boy-scout-white-water-merit-badge/" type="big" color="green" newwindow="yes"] LEARN MORE[/button]
PER SCOUT: $60
Call: 800-723-8987