First Time Colorado Whitewater Rafting
Getting to know the Arkansas River and What to Expect
By now, you've either booked a rafting trip with River Runners or are seriously considering it. Whether you wish to cross Colorado whitewater rafting off your "bucket list" or you're an avid adventurer looking to try another sport, River Runners has a trip for everyone. When is the best time to go River Rafting in Colorado?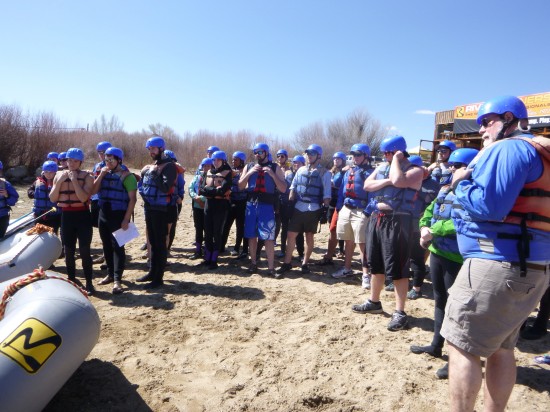 My name is Casey, I am part of the seasonal summer staff here at River Runners main rafting office in Buena Vista, Colorado. I was hired in reservations and social media/marketing.  Meeting great people and constant summer rafting – rough job right? Before I accepted this job, I had never experienced Colorado whitewater rafting. As a kayak guide in Minnesota, I thought flat water was more my speed. River Runners has changed my mind, and I bet we will change yours, too!
More than just an abbreviation
Let's get you acquainted with some rafting terminology. Whitewater raft guides throw around the term "cfs", which stands for cubic feet per second. This is a unit of measurement used to describe water flow, which is very important information to rafters and their guides. A cubic foot of water is about the same size as a basketball. In basketball terms, if you were standing by the river flowing at 1,500 cfs, that many basketballs would be passing by every second.  When you come in for your trip, ask your guide what the cfs is that day!
Because whitewater sections have varying gradients, depths, and widths, the optimal flow levels will differ for each river section as well. On the Arkansas River, the two sections I'd like to introduce you to are called Brown's Canyon and the Numbers. The preferred flows for Brown's Canyon are between 700-3,000 cfs and 700-2,300 cfs for the Numbers. The Arkansas River typically sees higher cfs flows between the mid-May thru the end of June as the valley warms and the snow melts in the mountains. The dam releases begin in July and August keeping the cfs perfect for family rafting trips!
Beginner, Intermediate and Advanced Rafting Trips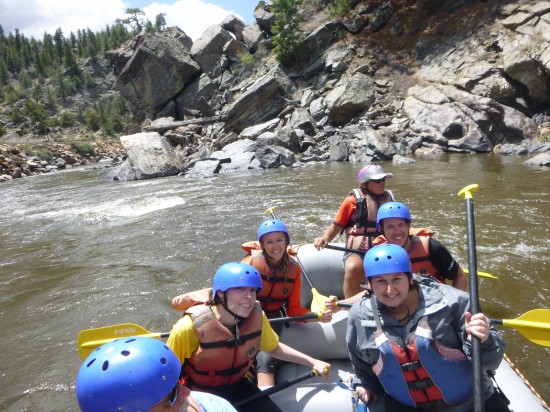 Since I began working at River Runners Colorado at the beginning of May, I have been out rafting on a Brown's Canyon half-day trip and a Numbers half-day trip.  If you are a new rafter like myself and are making a decision between the two trips, I hope my candid descriptions will help!
Let's start with Brown's Canyon rafting. I have to admit, I was a little nervous before the trip. Even though it is considered a beginner to intermediate rafting trip, I still had no idea what to expect. One of the coolest aspects of doing this trip with River Runners was the fact that we could leave right from our beach, eliminating time in the shuttle van to the put-in spot. Our guide, Dan, gave us a safety talk that included helpful tips about staying in the boat and always listening to your river guide.
Browns Canyon was an absolutely fantastic trip for me, because as a first timer, I was craving some rapids and excitement, but also wanted to snap a few pictures while in the canyon. There were times of intensity and times to catch your breath and take in the moment. Dan, who has been a guide since the late 80s, pointed out a huge variety of geological features in Browns Canyon, including rocks that looked like everything from an elephant to a sphinx.
My next Colorado whitewater adventure, a few weeks later, was the infamous Numbers section.  Though the water conditions were perfect for my first time rafting this section, my nerves were still pretty active on the shuttle to the put-in.  During the short drive, my guide, Josh, set me at ease by giving a safety talk more specific to the Numbers trip.  My nervousness shifted to excitement and I was ready to get on the water!
The beginning portion of the Numbers rafting trip allowed our group to practice paddling together, which became important on this class IV-V section!  The main thrills came right in the middle of the trip when the rapids intensified to include some big rapid drops and careful maneuvering around big rocks.  Josh was an amazing guide, giving clear instructions on when to paddle and encouraging us when we weren't paddling hard or fast enough.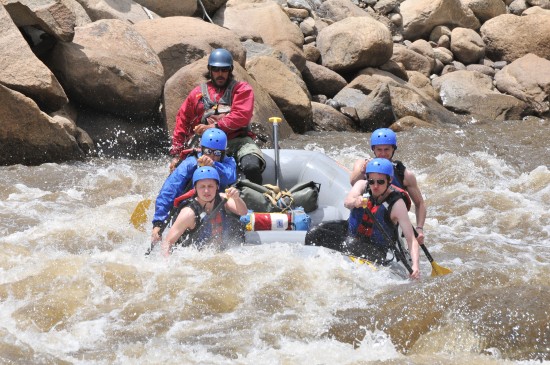 When considering what to wear whitewater rafting, I definitely recommend a wetsuit, splash jacket, and booties in the early season. You might think booties aren't necessary, but I promise that your feet do get really wet! The only thing I strongly discourage wearing is cotton. Cotton holds wetness on the water, which can lead to unnecessary shivers that distract from the excitement of the trip.
To all you novice or experienced rafters – don't let the Numbers scare you away!  Our guides here at River Runners are trained professionals who are experienced at making everyone feel comfortable.  As long as you are excited about going rafting, have a spirit for adventure, and a willingness to paddle, from one new rafter to another, I promise you can handle the Numbers!
If you have any questions at all, feel free to call us at 1-800-723-8987 or send us an email at rafting@whitewater.net.  If you want to talk more about my specific experience on any of the trips, just ask for Casey.  I would love to chat with you!
I know I speak for everyone at River Runners when I say that we are looking forward to getting you out whitewater rafting this summer.