Extreme Colorado White Water Rafting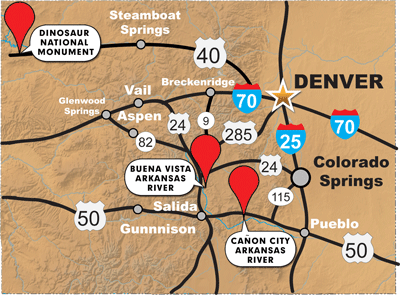 Looking for some real excitement this summer – then jump on an advanced level Class IV-V whitewater rafting trip with River Runners on the Arkansas River. Advanced level whitewater trips depart from either River Runners locations in Colorado: Buena Vista or Canon City.
ADVANCED RAFTING TRIP REQUIREMENTS:
To raft advanced level Class IV-V whitewater, you do not need any previous whitewater experience, but it is recommended that you have rafted before. Rafters should be at least 16 years of age during high water (May-June typically) and at least 14 years of age during regular season (July – August typically).
Our Two Colorado White Water Rafting Locations on the Arkansas River:
Royal Gorge Rafting Center
44641 US Hwy 50
Canon City, Colorado 81212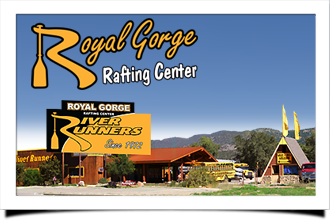 This location is roughly 1-1.25 hours from Colorado Springs and is located conveniently at the entrance to the Royal Gorge Bridge and Park. River Runners rafters receive discount entry tickets into the Royal Gorge Bridge and Park ($5.50 off per person).
The Royal Gorge – Advanced Class IV-V:
This is the trip you came to Colorado to experience. The Royal Gorge section rivals a mini version of the Grand Canyon, complete with advanced level rafting through the middle. There are some great pauses between some rapids so you are able to take in the grandeur of this amazing Colorado canyon.
Trips range from Half Day (2-3 hours) to Full Day and Double Dip trips (5-6 hours, include lunch).
Riverside Rafting Resort
24070 County Road 301
Buena Vista, Colorado 81211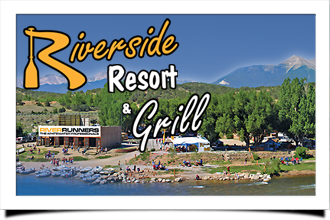 This location is roughly 2 hours West of Colorado Springs, 2-2.5 hours South and West of Denver and is at the base of 14,000ft Collegiate Peak mountain range. Enjoy nearby geothermic natural Hot Spring Pools. The Riverside Resort is also a small, intimate campground with 3 group sites along the river.
River Runners rafting guests receive discount entry tickets to nearby Mt Princeton Hot Springs if you would like to soak before or after your rafting trip.
Here we have three Advanced rafting trip options: Advanced Numbers trips, Expert level Pine Creek trips and Advanced Overnight Rafting Trips.
The Numbers – Advanced Class IV-V:
The Numbers is by far the most continuous set of rapids on the Arkansas River. The rapids are so close together, no one bothered to name them, they are just numbered. Be prepared to paddle with guide instruction as there is little time for rest. No experience is necessary, however previous rafting experience is recommended. Minimum age is 16 years until late July.
Trips range from Half Day (2-3 Hours), Full Day and Double Dip trips (5-6 hours, include lunch).
Pine Creek – Expert Class V:
The most extreme rafting on the Arkansas River. Because Pine Creek rapid is so intense, it is only able to be run part of the river season, once the river flows have subsided slightly. Previous Class IV rafting experience is Required and rafters must be physically fit and able to run a continuous mile.
Trips are only available in Full Day, which incorporates The Numbers advanced rafting in the afternoon. Pine Creek runs late June through July each year.
Advanced Overnight Trips – Class IV-V:
This is a truly unique ultimate whitewater experience. Enjoy 2 or 3 days of rafting on the Arkansas River. Trips are all-inclusive apart from your camping equipment. Two day trips raft The Numbers and Browns Canyon (intermediate) in 2 days, complete with remote riverside camping. Three Day trips include The Numbers, Browns Canyon and The Royal Gorge, camp remotely night 1 and then at the Riverside Resort night 2.
Trips depart daily throughout the summer with a minimum of 4 people per reservation.