Colorado Whitewater Rafting in Buena Vista and Canon City, Colorado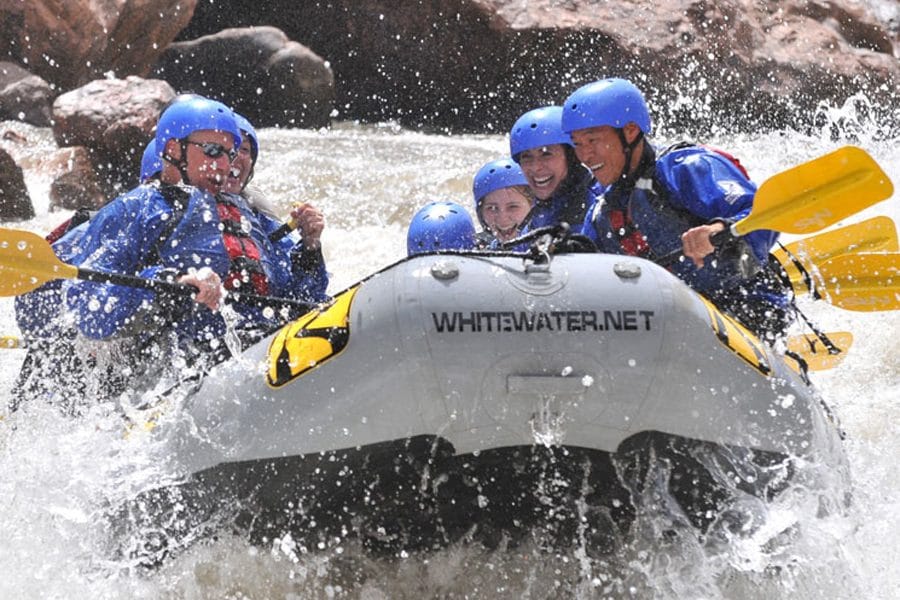 River Runners is one of the most recognized brands in Colorado and has been known throughout the state as "The White water Professionals" since 1972.
Ask anyone in Colorado who to go rafting with and the majority will say River Runners.
River Runners has taught more people in Colorado to raft than any other company in the state. Consistent quality of service and attention to detail is what has allowed River Runners to keep doing what we enjoy since 1972..
Location, Location, Location.
You will save time and enjoy no shuttle to the put-in for all Browns Canyon white water rafting trips at River Runners Riverside Rafting Resort. In Canon City, Colorado your group will meet at River Runners Royal Gorge Rafting Center on Hwy 50 at the Royal Gorge Bridge and Park turn-off. This location is centrally located between the rafting put-ins and take-outs..
Experience counts! Raft with the Best
River Runners is an established river outfitter that has been taking people white water rafting on the Arkansas River since 1972. Our professional raft guides go through double the training hours and miles required by Colorado State Parks and take people rafting every day throughout the summer..
Learn from your first phone call why River Runners has grown to be one of the largest rafting companies in Colorado
We work hard to give each and every guest a positive and memorable experience..
Professional photographers shoot every rafting trip.
Take your memories home with you and share your Colorado white water rafting adventure with family and friends. Watch a free slide show of your rafting trip on high definition big screen televisions..
You will enjoy all the amenities at each white water rafting location.
This includes convenient parking and a retail store with snacks, drinks and the world's largest collection of River Runners rafting souvenirs. At River Runners Riverside Rafting Resort you are right on the Arkansas River. Here you can enjoy sand volleyball, horseshoes, and catch and release fishing. Group camping is available and be sure to check out our Riverside Bar and Grill. At the Royal Gorge rafting Center in Canon City there is a great shaded picnic area and sand volleyball court..
You can be sure that River Runners rafting equipment is in top condition.
On your rafting trip you will be padding in an outfitter grade self-bailing raft. Type V personal flotation devices and helmets are provided on every trip..
Clean wetsuits, booties, and spray jackets are available for a small rental fee at each Colorado rafting location.
Our rental gear is cleaned after every use with a biodegradable and hypoallergenic cleaner.
Transportation is provided by professional commercial drivers, many of whom also drive school buses during the school year.
If you are rafting in Buena Vista, Colorado you will receive 2 for 1 tickets to soak at Mt. Princeton Hot Springs resort.
Raft with us and stay at Mt. Princeton Hot Springs Resort and receive on rafting and on lodging. Raft in Canon City, Colorado and receive discount tickets to the Royal Gorge Bridge and Park.