Start Planning Your Colorado Group Rafting Vacation
Get the date you want, at a competitive group rafting rate
Planning a group white water rafting vacation doesn't have to be stressful, but if you wait until the last minute it could become more difficult than it needs to be. Summer is a busy time for rafting companies in Colorado and peak season dates can become completely booked. Booking your group rafting trip in advance ensures that you get the date you want, at a competitive price, with a company you can trust. Here are some steps to start planning your Colorado group rafting vacation today.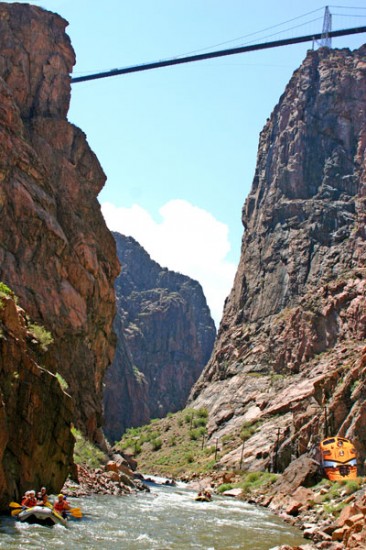 Step 1: Choose a date for your group rafting trip
The river rafting season in Colorado starts around May 1 and goes through Labor Day Weekend. Spring runoff starts in mid-May and peaks around the first or second week of June. This is the best time to go rafting if you are looking for the most exciting trip possible, but there really is not a bad time to go rafting in Colorado – especially on the Arkansas River. If you are rafting with a group of young children July is a great time of year to get on the river due to warmer weather and moderate white water. Ultimately though, this decision will come down to what works best for your group. Get your Colorado rafting trip on the next meeting agenda to decide on a time that works for the majority.
Step 2: Choose a group rafting destination
Choosing the best rafting destination in Colorado for your group is the next step. It could depend on other activities you have planned for your group and the availability of lodging accommodations. Rafting on the Arkansas River in Canon City is just one hour from Colorado Springs and offers great white water all summer long. Rafting the Royal Gorge is the ultimate Colorado adventure, but the white water in Bighorn Sheep Canon is still exciting and appeals to a broader group of people. There are also many other things to do in Canon City, Colorado like visiting the Royal Gorge Bridge and Park, ATV tours, Zip Line Tours, camping, museums, train rides, helicopter tours and much more. All of this just one hour from Colorado Springs.
Rafting on the Arkansas River in Buena Vista, Colorado is more of a destination, but is still only 2.5 hours from Denver and 2 hours from Colorado Springs. Your entire group (up to 100 people) can camp at the River Runners Riverside Rafting Resort, and launch your rafting adventure right from our private beach. Browns Canyon is the most popular group rafting trip in Colorado, but more advanced rafting trips on Pine Creek and the Numbers are available. This is also the location for group overnight rafting trips on the Arkansas River and the Boy Scout White Water Merit Badge Clinic. Make River Runners or Mount Princeton Hot Springs your base camp and enjoy all of the other activities available in this region of Colorado. Hiking, summiting a 14er, zip lines, jeep tours, horseback riding, mountain biking and many other outdoor adventures are all right here.

Step 3: Choose a reputable white water rafting company that can accommodate your group
There are more than 50 white water rafting companies on the Arkansas River in Colorado alone and it can be intimidating when trying to choose the best river outfitter for your group. River Runners has 40 years of group rafting experience, two large facilities on the Arkansas River, the best rafting equipment available and year around staff here to help you plan your group vacation in Colorado. Plus, because we are one of the largest rafting companies in Colorado, we are able to provide competitive rates to fit almost any budget.
Step 4: Book your group rafting trip in advance
Get the date you want at the best rate by booking your group rafting vacation in advance. Only a 50 percent deposit is required and cancelations are permitted if made at least two weeks prior to the rafting date (minus a $10 per person fee).