Leadville Summer Water Activities
Leadville summer visitors enjoy the thrill and excitement of Arkansas River Rafting nearby in Buena Vista, Colorado. Leadville Colorado is the base of the Arkansas Headwaters Recreation Area. Because Leadville is based at 10,000 feet above sea level and its nearby Continental Divide Mountain peaks reach 14,000 feet and above, the winter snowmelt naturally feeds this valley and the Arkansas River basin each spring and summer.
This being said, Colorado whitewater rafting near Leadville hits its annual surge in May and June when the outside temperatures tend to warm up and the snowmelt is rushing off.
Leadville whitewater rafting is challenging and hosts a wide range of difficulty. It is best to go whitewater rafting with a professional outfitter, since there are many sections of the river designated for expert boaters.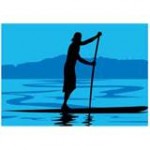 Stand Up Paddleboarding
There's also a new craze of Stand Up Paddle Boarding in the area, either on the Arkansas River in Class I-III sections or on nearby Leadville lakes and reservoirs. This sport combines the art of surfing and kayaking in a new fun and creative way. Nearby Turquoise Lake and Twin Lakes are amazing reservoirs with great mountain views and abundant wildlife, providing wonderful spots to mill around the lake on your stand up paddle board or other watercraft.
Stand Up Paddle (SUP) Boards are available for rent nearby at Colorado Kayak Supply in Buena Vista.