Post-adventure fun at River Runners
This is going to be an exciting year at River Runners with lots of food, music and special events to pair with your whitewater rafting, kayaking, stand-up paddleboarding and off-roading. Here are the best experiences for après rafting at River Runners Colorado.
Book now, raft this summer
15% off full-days – enter Online15
10% off half-days and overnights – enter Online10
Offer expires May 1, 2018
The Riverside Bar and Grill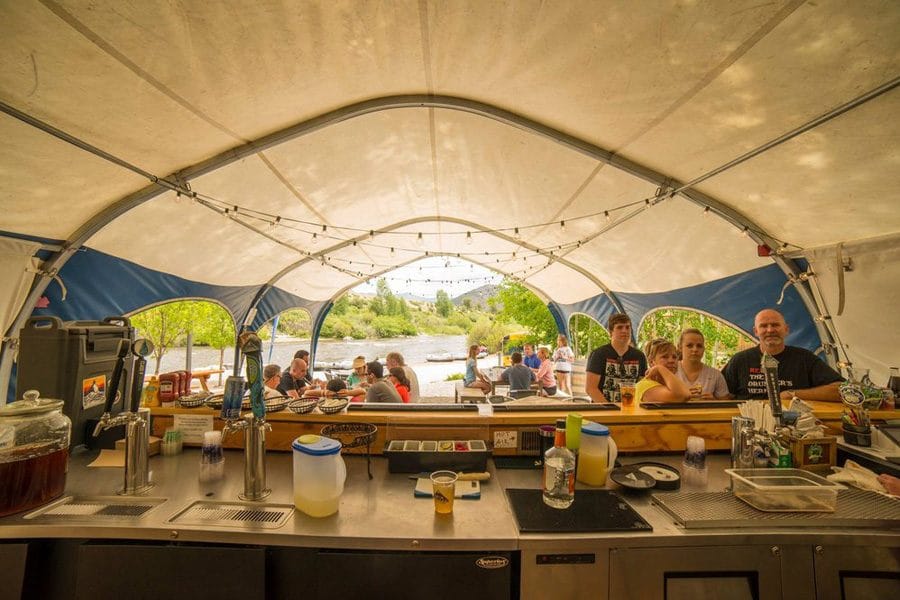 Relax riverside
Don't let the fun end when you get off your Browns Canyon rafting trip. Enjoy great food, a sandy beach, music and the best summer drinks at the Riverside Bar and Grill. Featured events include the Down River Rendezvous, Paddlefest Race to the Grill, Rapids and Grass and River Arkansas on the Arkansas. Open May 19 – Labor Day, 2018.
The Buena Vista Adventure Hub
Your source for adventure
The Buena Vista Adventure Hub is your source for adventure, shopping, food and drinks. The Hub Bar and Deli food trailer (opens Memorial Day Weekend) will satisfy your taste buds, then wash it down with a margarita, whiskey river mule or local beers from Eddyline Brewery. Enjoy free live music every Friday night at The Beach. Featured events include CKS PaddleFest, Rapids and Grass Beer and Music Festival, and Fourteener Fest.
Other local hangouts in Colorado's Arkansas River Valley
There are more ways to experience après rafting with River Runners. Here are just a few other favorite hangouts in Buena Vista, Salida and Cañon City, Colorado.
The Beach in South Main Buena Vista
Free live music on Friday nights
Thanks to donations from the South Main Arts and Parks Trust you can jam out to free live music on Friday nights all summer. This family-friendly venue is between the South Main Square and the Arkansas River.
The Lariat
Live music in Buena Vista, Colorado
Enjoy great eats, libations and mountain-made music at this historic and newly renovated restaurant, bar and music venue in Downtown Buena Vista.
The Eddyline Brewery and Tap Room
Try the River Runners Pale Ale
Happy Hour is 2:00 pm – 5:00 pm Monday through Friday where you can enjoy $3.50 pints and $1 off appetizers. It's also a regular spot for live music throughout the spring, summer and fall.
Deerhammer Distillery
A grain to glass distillery
Deerhammer is a grain to glass distillery high in the Colorado mountains. It has a rustic, yet elegant tasting room in Downtown Buena Vista with live music on summer weekends. The Buena Viking food truck offers hamburgers, fries and more in the courtyard.
Mount Princeton Hot Springs Resort
10 minutes from River Runners at Browns Canyon
If soaking in natural geothermic hot springs next to a creek with 14,000-foot mountains all around you sounds good – this is the place for you. Discount tickets sold at River Runners.
The Boathouse Cantina in Salida, Colorado
Next door to River Runners at Salida
Enjoy delicious food and cold drinks on the Arkansas River in Downtown Salida, Colorado. Find plenty of TVs for "the game" and live music on weekends. River Runners at Salida is right next door. Book a raft trip or rent tubes, inflatable kayaks and stand-up paddleboards for your own adventure.
Woods Distillery in Salida, Colorado
Hang with the locals at Woods Distillery. The mayor of Salida runs this joint, where you can enjoy live music with cocktails made from local craft whiskey and gin.
The Victoria Bar in Salida, Colorado
Live music on weekends
No late-night out in Salida, Colorado is complete without a trip to "The Vic". This historic bar will remind you of the old west, but the live music will keep you dancing all night long.
The Royal Gorge Bridge and Park
Elk Park Amphitheater at the Royal Gorge
This 360-acre amusement park is located along the edge of the Royal Gorge around both ends of the bridge. New amenities include a café, bar and amphitheater featuring the Park After Dark Concert Series.
My Brothers Place in Cañon City, Colorado
"A bit rough for the uninitiated but that is the beauty of it." This rustic bar in downtown Cañon City is a popular hangout for river guides and tourists alike.
Did we miss one of your favorite post-adventure hangouts?
If we missed one of your favorite hangouts in Buena Vista, Salida or Cañon City, Colorado – let us know in the comments below.