2 Day Rafting Trip Near Colorado Springs
Multi-Day Rafting Trips Near Colorado Springs, Colorado
| 2 Day Family Rafting Trip | 2 Day Advanced Rafting Trip | 3 Day Ultimate Rafting Trip |
Incredible whitewater, camping and fun
2 Day advanced multi-day rafting trip on the Arkansas River
Overnight Rafting near Colorado Springs, Colorado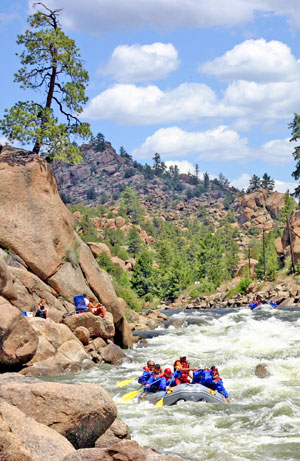 Multi-day Class 5 whitewater rafting
The best advanced level overnight whitewater rafting trip near Colorado Springs Colorado is found on the Arkansas River, 2 hours west of Colorado Springs in Buena Vista, Colorado. Advanced overnight rafting in Buena Vista consists of The Numbers and Browns Canyon whitewater trips. Rafters enjoy a challenging Day 1 in The Numbers where the rapids zoom by so fast, they are numbered rather than named. Day 2 consists of a milder Intermediate grade Class III-IV Browns Canyon experience.
The best overnight rafting near Colorado Springs, Colorado
Advanced overnight rafting trips near Colorado Springs are only found in Buena Vista Colorado, a mild 2 hour ride West of the City. Enjoy a leisurely and beautiful ride west, through vast Colorado mesas filled with wildlife and mountain landscape. Once you arrive in Buena Vista, your whitewater crew will get you fitted out in all the proper gear for your day of advanced whitewater rafting.
Relax, Eat, Raft, Rinse, Repeat
At days end, relax in beautiful Browns Canyon where you will camp remotely overnight before awaking to hot breakfast and another full day of whitewater rafting. Day 2 is slightly milder whitewater, giving you the opportunity to paddle more aggressively through the rapids and take-in the river wildlife and infinite views only found in this remote river canyon.
Summer fun made easy
It is possible to partake in an advanced overnight, 2-day whitewater adventure during any two days this summer with a minimum of 4 people in a reservation. Colorado Springs residents enjoy overnight rafting trips on their summer weekends while visitors to Colorado Springs are able to pop away to Buena Vista any day of the week to enjoy their advanced overnight whitewater rafting adventure.
Try the ultimate overnight Colorado whitewater rafting trip
Groups with participants at least 16 years and want more Colorado adventure try River Runners 3 day ultimate overnight rafting trip that includes all the best rafting trips in Colorado. (The Numbers, Browns Canyon, Bighorn Sheep Canon and the Royal Gorge rafting trips)
Colorado Springs, Colorado 2 day overnight river rafting video
Colorado Springs, Colorado Numbers rafting video
Numbers at extreme high water!
Raft at River Runners Riverside Rafting Resort

2 Day Advanced Rafting Details
Your rafting trip will start and end in Buena Vista, Colorado
If you are driving from Colorado Springs, Colorado please allow 2 – 2.5 hours, it is approximately 95 miles to Buena Vista, Colorado.
Advanced reservations for your 2 day advanced rafting trip are required.
Please meet at River Runners Rafting Resort 24070 County Road 301 Buena Vista, Colorado 81211.
Please arrive 1 hour prior to your trip time. This is to check in and be fitted with your rafting gear.
Once you check in please allow 2 days for your rafting trip.
You will return to your vehicle approximately 4:00pm the final day of your rafting trip.
Once you arrive all transportation will be provided.
Your 2 day family rafting trip will depart from our Rafting Resort located on the Arkansas River.
All meals are catered by your river rafting guides.
Camping equipment is available for rent.
Professional photographers will take photographs of you while you are rafting on the Arkansas River.
After your 2 day advanced rafting trip enjoy a free slide show of your rafting photographs.
Watch others raft by on the Arkansas River and enjoy some food and a drink at River Runners Riverside Grill.
RIVER RUNNERS
Two incredible Colorado whitewater rafting locations near Colorado Springs, Colorado
CANON CITY, COLORADO
Whitewater rafting 1 hour from Colorado Springs, Colorado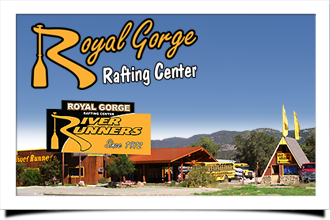 RAFTING TRIPS

BUENA VISTA, COLORADO
Whitewater rafting 2.5 hours from Colorado Springs, Colorado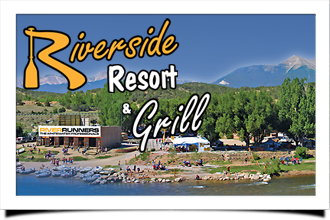 RAFTING TRIPS