What to Wear & What to Bring White Water Rafting in Colorado

___ Wetsuits available for rent
___ Swimming suit and/or board shorts

___ Sunglasses and securing straps available for purchase

___ Booties available for rent, old tennis shoes or secure sandals – no flip flops

___ Fleece jacket for cooler weather days

___ Splash jackets available for rent

___ Cash for souvenirs and tipping your guide
AVAILABLE RENTALS
___ Wetsuit – $4/day
___ Splash Jacket – $4/day
___ Booties Only – $4/day
___ Full Suit – $12/day
NO FLIP FLOPS!
DO NOT WEAR COTTON ON THE RIVER 
ESPECIALLY BLUE JEANS OR SWEATS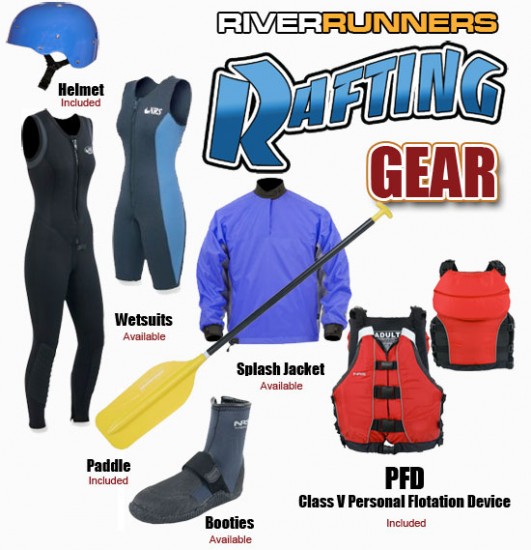 PARKING:We offer free parking for our guests. Please arrive 1 hour prior to your trip departure time. Park your car and proceed to check-in. Once checked in and outfitted for the river please lock your car and return your keys to check-in for safe keeping.

DO NOT BRING YOUR KEYS DOWN THE RIVER!
You will lock all valuables in your vehicle and leave your keys with our front desk.
ORIENTATION: Prior to boarding your raft, you will receive a complete orientation on safety, emergency procedures and other trip related matters.
LIABILITY RELEASE: Everyone will be required to sign a liability release form prior to trip departure. Youths not riding with their parents will need to provide a copy of our youth liability release signed by one or both parents. You can print a copy of our liability release form here: Waiver
MEALS: We provide lunch with all FULL DAY trips as well as water and lemonade at all stops along the river. Special diets can be accommodated upon request. We recommend you bring your own drinks in metal or plastic containers, we will provide a place to carry them. NO GLASS IS ALLOWED ON THE RIVER
TIPPING: Tipping is appropriate, particularly if you have received exceptional customer service. If you believe that a tip is appropriate we recommend an average tip of $10/guest/day. We always appreciate hearing from you so that we can recognize extraordinarily customer service and we also appreciate hearing from you if you feel that there are areas that we can improve upon. We strive to exceed your expectations!
NON-SWIMMERS: Many of our participants cannot swim. We provide U.S. Coast Guard approved life preservers designed to float you face-up in heavy white water. Everyone will wear these at all times while we are on the river.
ALCOHOLIC BEVERAGES: Alcohol and rivers do not mix. We do not provide alcohol, and alcohol is not permitted while on the river. On multi-day trips you may bring alcohol for consumption in camp but it must be in plastic or metal containers (no glass). Guests who have been drinking before the trip will not go on the river and will not receive a refund!
ALTITUDE: You will be rafting at altitudes between 5000 and 8000 feet. Most people don't have serious problems here, but shortness of breath and dehydration are common. Come a day or two early to acclimatize yourself if you can, and drink plenty of fluids while you are here. A headache often means you're dehydrated—Drink plenty of water.
RETAIL STORE: We have a retail store for those last minute items such as sunscreen and waterproof cameras. After the trip plan to check out our t-shirts, hats and souvenirs.
PHOTOS: Arkansas Valley Digital Imaging takes photos of every raft in a major rapid. 8 x 10 prints are normally available to view and purchase at our office by the time you return from your trip. We also have CD's available which include all the digital images from Your raft.
LITTER: Please keep in mind that on our trip we will carry out ALL of our trash and whatever other trash we may find as we travel down the river. This applies to the put-in as well. If you accidentally discard cigarette butts, used matches, gum wrappers, toilet paper, or anything that doesn't occur naturally on the river bank you will be politely asked to pick it up.
PREGNANCY: We cannot take you rafting if you are pregnant. This policy is for your own safety and that of your unborn child.
RESERVATION POLICY: A 50% deposit is required to confirm a reservation. Full Payment is due 14 days prior to your trip departure.