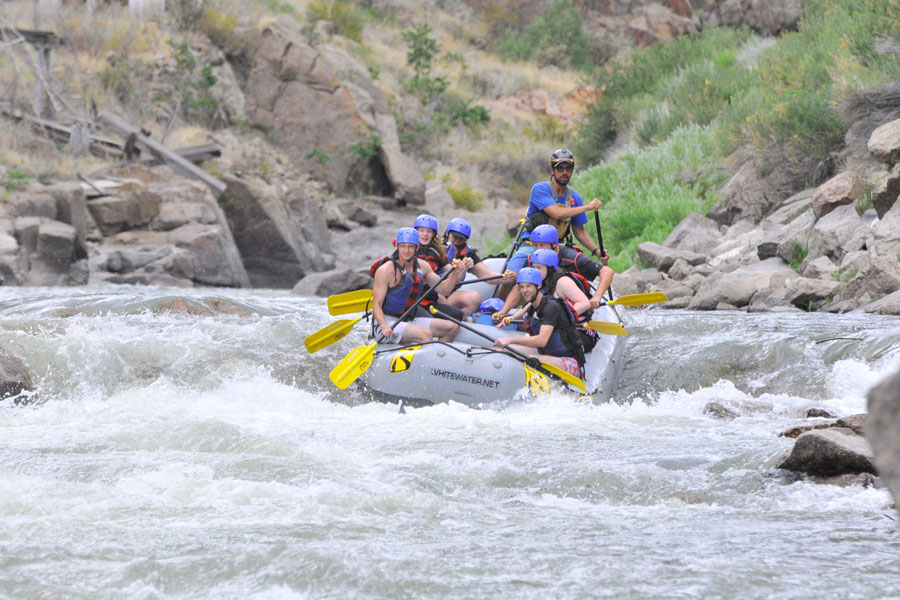 Raft Colorado's Arkansas River now through September
The first signs of spring are here on Colorado's Upper Arkansas River. Trees are budding, birds are singing and flows are rising. Now that the rafting season is upon us, what can we expect river conditions to be like this summer?
Even with a low snowpack in southern parts of the Arkansas River Basin, we are looking at a solid rafting season thanks to an above average snowpack for Fremont Pass, the fullest reservoir storage in the state and imported water from the western slope.
Pro Tip: To raft the Royal Gorge or the Numbers at peak flows this year, book your rafting trip for late-May or early June. These advanced sections are likely to be open during peak runoff unlike in recent years.
Book now, raft this summer
15% off full-days – enter Online15
10% off half-days and overnights – enter Online10
Offer expires TODAY, May 1, 2018
Predicting rafting conditions
There are several things to consider when trying to predict whitewater conditions on the Arkansas River. It's impossible to know exactly what will happen, but let's look at what we do know.
The Upper Arkansas River Basin Snowpack – the part that impacts rafting conditions – is 78 percent of normal. Fremont Pass, which is at the headwaters of the Arkansas River, is 108% of normal. Reservoir storage in the Ark Basin is 160% and water imports from the Western Slope are reported to be average.
Snowpack for the Upper Arkansas River Basin: 78% of normal
Fremont Pass SNOTEL Site: 108% of normal
Reservoir storage for the Arkansas River Basin: 160% normal
Import water from the Western Slope: 100% of normal
Voluntary Flow Management Program
The Voluntary Flow Management Program (VFMP) has a target minimum flow of 700 cubic feet per second (CFS) at the Wellsville Gauge near Salida, Colorado between July 1 and August 15 each year. Most years this is possible and this is lining up to be one of those years.
Planning your rafting trip
If you plan to raft on the Arkansas River this summer you should expect the highest flows in late-May through mid-June and moderate flows from late-June through mid-August. This means great rafting conditions all summer. Questions? Call 800-723-8987 or book online.