If this is your first time rafting, have no fear River Runners has been teaching people how to raft in Colorado since 1972.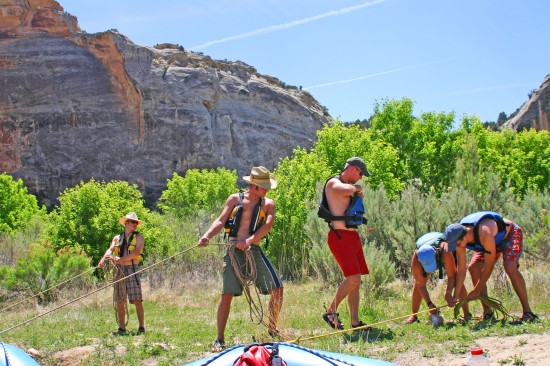 Our expert guides make it easy for you to have a fun, safe and memorable first time rafting experience. You'll have the time of your life with River Runners on a Colorado white water adventure.
Common questions and first time river rafting tips

Is previous rafting experience required?

No. Previous rafting experience is not required to go white water rafting with River Runners on the Arkansas River in Colorado. In fact, children as young as three years old who are at least 35 pounds can get their feet wet on a class II beginner Family Float. Adventurous first time rafters who are at least six years old and 50 pounds can experience the thrills of class III-IV rafting on Bighorn Sheep Canyon and Browns Canyon (age and weight restrictions fluctuate with water flows – please call for updates).

Where is the best place for river rafting in Colorado?

With so many options for river rafting in Colorado, there are a few things you should consider to narrow it down. Finding a convenient location, choosing the appropriate rafting trip and hiring a reputable rafting company are the most important factors when deciding where to go rafting in Colorado.

Finding a convenient rafting location

The River Runners Royal Gorge Rafting Center is just one hour from Colorado Springs and the River Runners Riverside Resort is only 2.5 hours from Denver. These locations are both located at the heart of Colorado's two best rafting destinations on the world-renowned Arkansas River.  If you are looking for a more secluded rafting experience explore the wilds of Dinosaur National Monument. Adventurous first time rafters can enjoy luxury overnight rafting expeditions on the Green River and Yampa River through Adrift Adventures in Jensen, Utah (only 2.5 hours from Salt Lake City, Utah).

Choosing an appropriate rafting trip

River Runners offers the largest selection of beginner rafting trips in Colorado. Choose from half-day, full-day and overnight beginner rafting trips on the Arkansas River. Adrift Adventures offers exclusive multi-day rafting trips in Dinosaur National Monument. Here you can choose from one-day excursions on the Green River or four-day and five-day rafting expeditions on the Green River and Yampa River.

Hiring a reputable rafting company

River Runners has been teaching people how to raft on the Arkansas River since 1972 and is known throughout Colorado as the "white water professionals".  An unwavering commitment to safety and customer service has made River Runners one of the most reputable river outfitters in Colorado.

What do you wear white water rafting in Colorado?

River Runners offers rentals on wetsuits, splash tops and booties for a small fee, but you should always wear a swimsuit underneath. Fleece, rain jackets and other quick dry layers (not cotton) are also appropriate – especially on cooler days. Heel-strap sandals (no flip-flops) or an old pair of tennis shoes are acceptable footwear. Last, but not least, be sure to wear plenty of sun screen and reapply throughout the day.