River Runners to offer rafting trips on the Arkansas River through Labor Day 2012
Thanks to above average precipitation in the mountains River Runners will offer whitewater rafting trips daily down Browns Canyon, Bighorn Sheep Canyon, and the Royal Gorge sections of the Arkansas River through September 3 (Labor Day), 2012.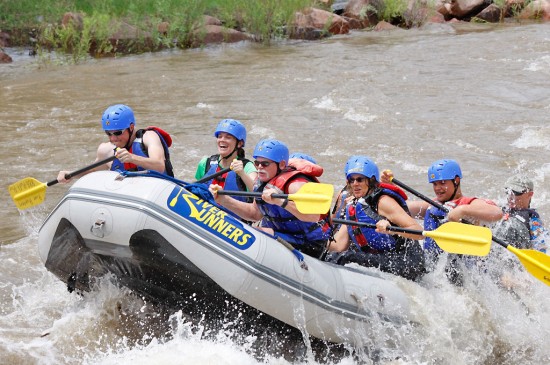 Flows on the Arkansas River – along with the rest of the state – have been below average this season, but are holding at fun, runnable levels because of all the rain we received in July. Come enjoy some of the best water of the season this August.
Current Flows on the Upper Arkansas River in Colorado
Current flows on the Arkansas River (as of August 2, 2012) are 380 cfs in The Numbers; 460 cfs in Brown's Canyon; and 424 cfs in Bighorn Sheep Canyon and the Royal Gorge, which according to Hochard are not too far from normal for this time of year.
August is a beautiful time to go rafting in Colorado. Enjoy warm weather, less crowds and the beginning of changing leaves and the season.
To learn more about Colorado whitewater adventures with River Runners call 1-800-723-8987.