Arkansas River Whitewater Rafting Conditions
Medium Flows
Colorado whitewater rafting conditions: Flows on the Arkansas River in Colorado are holding steady at around 1,000 cubic feet per second (cfs) in Browns Canyon as of Thursday, June 20, 2013. This provides family-friendly whitewater in Browns Canyon and Bighorn Sheep Canyon; and challenging whitewater in the Royal Gorge (closed), the Numbers and the Pine Creek sections of the Arkansas River.
The water is currently 56 degrees (f) on the Upper Arkansas River, so wetsuits are optional, but still recommended. The weekend forecast for the Upper Arkansas River Valley is calling for highs in the upper 80s (f) and lows around 50 degrees (f).
It's a great time to beat the heat this summer with a whitewater rafting trip on Colorado's Arkansas River. Call 800-723-8987 or book online to reserve your space.
Class V Rafting in Colorado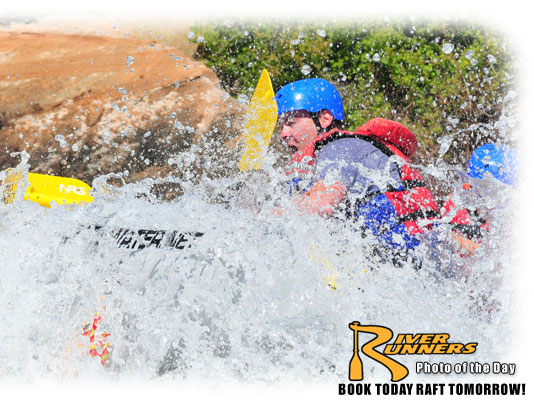 Pine Creek Section of the Arkansas River is Open
Minimum Age 18 | Experience Required
The water has leveled to medium flows after peak runoff, so it's a great time to challenge the Pine Creek section of the Arkansas River. Explore Granite Gorge and Pine Creek rapid (class V) in the morning and finish the day with a continuous class IV rafting trip through the Numbers after a catered riverside lunch.
The Granite and Pine Creek section has the steepest whitewater on the Arkansas River with an average gradient of 58 feet per mile (fpm) and a maximum gradient of 200 feet per mile. You must have previous class IV rafting experience, be a strong swimmer, at least 18 years old, and be in good physical condition for this class V Colorado rafting trip.