Arkansas River Rafting in Colorado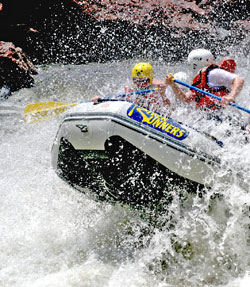 One of North America's most popular whitewater rafting destinations is the Arkansas River in Colorado. Centrally located in the Heart of the Rockies, the Arkansas River has Colorado whitewater rafting trips suitable for nearly all ages and abilities. At River Runners you can depart from Buena Vista or Canon City.
Whitewater Rafting the Arkansas River in Colorado is fun, exciting and sometimes challenging (depending on the type of trip you choose). Allow River Runners to help find the right level of rafting trip for the ages and abilities of your group.
The Arkansas River has a variety of whitewater sections from mild class I-II rafting to extreme class V whitewater. No matter what type of thrills or experiences you want to fulfill, the Arkansas River is bound to have something that fits the bill – from narrow, boulder-filled canyons to calm meandering river corridors filled with wildlife.
Even though the Arkansas River is one of the most commercially rafted rivers in the world, it is still well preserved and maintained through the Arkansas Headwaters Recreation Area, a collaboration of Colorado Wildlife and Parks and the Bureau of Land Management.
Arkansas River overnight whitewater rafting trips
Overnight whitewater rafting trips through Browns Canyon are a great way to experience the solitude of multi-day rafting without committing to longer expeditions. Paddle, hike, camp, fish and relax on an overnight Arkansas River rafting adventure. These exclusive rafting trips launch every day throughout the season with a minimum of four people. Call to check for existing launch dates.
Whitewater Rafting Destinations