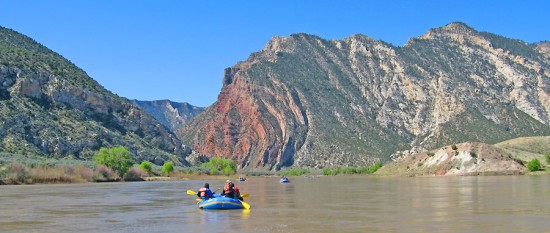 Adrift Adventures 9500 East 6000 South Jensen, Utah 84035 Call: 800-824-0150
One-Day Split Mountain Gorge Rafting in Dinosaur National Monument

Departing daily throughout the summer, Adrift Adventures one-day Utah whitewater rafting expeditions through Split Mountain Gorge on the Green River cover approximately nine river miles in the heart of Dinosaur National Monument. There are four beginner class II – III rapids on this stretch of the Green River: Moonshine, S.O.B., Schoolboy and Inglesby. This one-day whitewater rafting trip offers the perfect mix of magnificent scenery with just enough whitewater to add a little excitement to the day and cool you from the summer heat. Split Mountain Gorge is the best Utah white water rafting suitable for just about everyone.
Minimum requirements are 6-years old and 50LBS.
Rafting trip costs include entrance fees into Dinosaur National Monument, so whether you take time after your trip the same day or explore Dinosaur in the following few days, the one-day Utah whitewater rafting trip through Split Mountain Gorge will surely be the highlight of your visit to the Vernal area.
SPLIT MOUNTAIN GORGE RAFTING TRIP ITINERARY:
Rafting Trips meet daily at 8:30 a.m. at Adrift Adventures in Jensen, Utah. Trips run mid-May through Labor Day. We depart at 9:00 a.m. and take a 1 hour bus ride to Rainbow Park. During the drive, we stop to view Native American Petroglyphs and get a bit of History about Dinosaur National Monument. Once at Rainbow Park, your guides will give you a safety short orientation. We are typically on the water by 10:30 a.m.
We encounter three rapids before stopping at our lunch spot for our famous "Split Mountain Burrito" lunch. Lunch is build-you-own and is vegetarian. After this hearty lunch, we finish the remaining 3-4 miles of Split Mountain Canyon and one more challenging rapid. Our trip ends at the Split Mountain Campground where transportation awaits with a short 20 minute drive back to Jensen. Split Mountain Daily raft trips typically arrive back to Adrift Adventures in Jensen between 3:00 to 4:00 p.m., depending on water flows.
Adrift Adventures provides all rafting safety equipment, food and transportation to/from our office. We recommend you bring a hat, sunscreen and sunglasses with a strap. Guests are comfortable wearing shorts and swimsuits, but if you sunburn easily, you may opt to wear long sleeved shirt and/or pants. Lightweight synthetic fabric is better than cotton as it dries faster. We only recommend waterproof cameras, any other non-waterproof digital cameras are at risk.