Raft Colorado's Arkansas River
Whitewater Rafting just an hour from Colorado Springs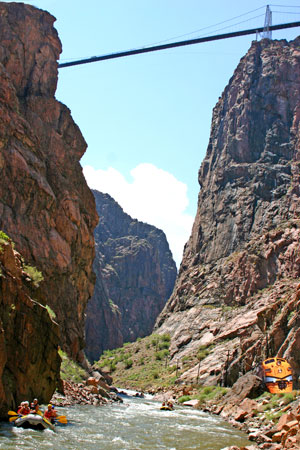 Being centrally located to many outdoor activities, numerous Colorado hot spots and historic places of interest, Colorado Springs is a wonderful urban hub for your Colorado vacation. True Colorado whitewater rafting can be found on the Arkansas River just a short distance from Colorado Springs. World class rapids and spectacular views await you. Most importantly every type of whitewater rafting experience awaits you whether it be at the iconic Royal Gorge rapids or the calmer and serene Bighorn sheep canyon, we have your adventure for you.
Raft the Royal Gorge of the Arkansas River
Rafting the Royal Gorge will be the highlight of your Colorado Springs vacation. The Royal Gorge is located just one hour from Colorado Springs near Cañon City, Colorado. Visit the River Runners Royal Gorge Rafting Center and let the whitewater professionals take care of your rafting needs. Royal Gorge rafting departs daily May – September. (late-May & June is high water) The best way to see the Royal Gorge is on a whitewater rafting trip down the Arkansas River. Challenge legendary rapids like Sunshine Falls, Sledge Hammer and Boat Eater on both half day and full day Royal Gorge rafting trips. On the full day, you get to raft Bighorn Sheep Canyon in the morning, stop for lunch, and paddle the Royal Gorge in the afternoon.
Family rafting near Colorado Springs.
Enjoy rafting the family-friendly class III – IV rapids in Bighorn Sheep Canyon. Choose from full or half day rafting trips on the Arkansas River. Your full day family rafting adventure will include a catered riverside lunch. Bighorn Sheep Canyon rafting trips are filled with great rapids, incredible Colorado scenery, and wildlife. Rapids in Bighorn Sheep Canyon is exciting but not as challenging as the Royal Gorge. You will find they are wild enough to get you wet, but mild enough for you to take in the scenery of the canyon. If this is your first time rafting – Bighorn Sheep Canyon is the trip for you.
Buena Vista white water rafting just 2 hours from Colorado Springs
Also, just 2 hours from Colorado Springs is the town of Buena Vista, backdropped with beautiful 14'ers and of course great white water rafting. Buena Vista, Colorado is one of the premier whitewater rafting and kayaking towns in the world. It's a scenic two-hour drive from Denver or Colorado Springs. Buena Vista is located along the Arkansas River and is shadowed by snow-capped mountains. Every spring and summer thrill-seekers converge here to run the mild and wild rapids of the Arkansas River.
Choose from a full day, half day and overnight whitewater rafting trips in Browns Canyon National Monument, where you'll experience majestic canyon scenery and legendary class III rapids like Pinball, Zoom Flume and Staircase. All River Runners Browns Canyon rafting trips depart from our riverside property (at normal flows). This gives you more time to relax on your Colorado vacation. The best class III-IV rafting trip in Colorado -Get ready to cool off and have fun on this family-friendly rafting trip near Buena Vista, Colorado. Whether this is your first time rafting or you're a seasoned river runner, everyone is sure to love this classic stretch of Colorado whitewater.
Online Sale
10% Off Rafting Tours – PROMO CODE: Online10
Not valid with existing reservations
Discounts can not be combined