River Runners Raft & Stay Packages
Book Your Lodging Here & Save on your Colorado River Rafting Trip
Delaware Hotel
700 Harrison Avenue
Leadville, Colorado, USA 80461
Tel: 1-719-486-1418 or 800-748-2004
COLORADO VACATION INFORMATION
Map to Delaware Hotel Leadville Colorado
View Larger Map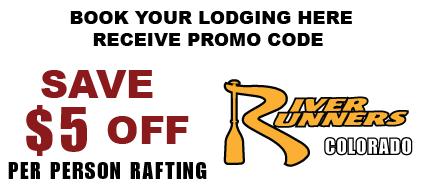 Raft and Stay at the Historic Delaware Hotel in Leadville, Colorado
Visit Leadville Colorado's oldest and most stately piece of history, the Delaware Hotel. Built in 1886 as a Victorian Inn, the Delaware is found on the corner of Main Street (Harrison Avenue) and 17th Avenue in Leadville and is rich in history and grandeur.
Lodging at the Delaware Hotel in Leadville, Colorado is quaint with old-time charm and a variety of room types: deluxe suites, king, family or queen rooms. Each night stay is offered complimentary continental breakfast served in its breathtaking and unforgettable lobby.
Enjoy Leadville whitewater rafting nearby on the Arkansas River and other outdoor recreation such as snowmobiling, hiking, mountain biking and skiing. Leadville Colorado is a great outdoor and historic destination.