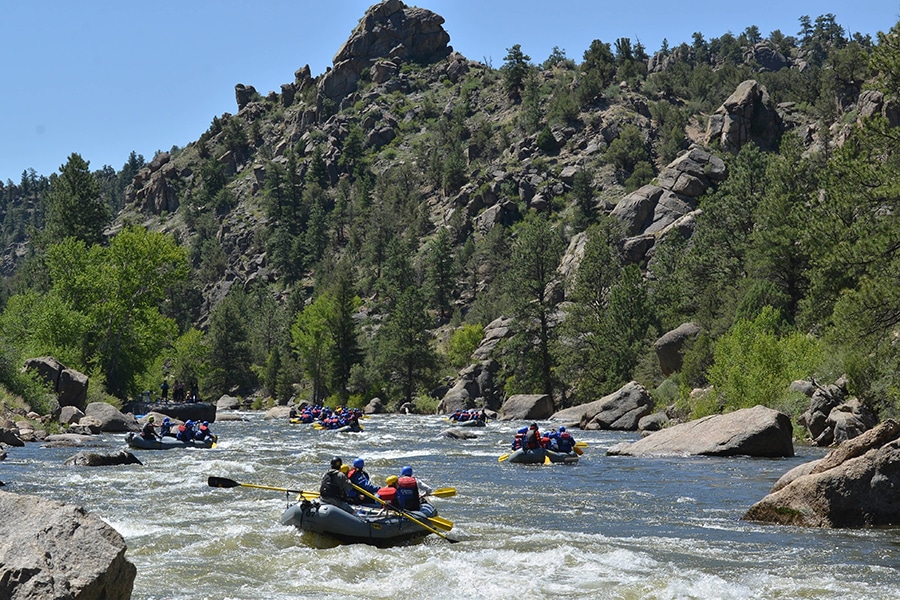 Arkansas River rafting conditions
The runoff has peaked and all high water advisories have been lifted. This means epic family fun and advanced rafting tours are just getting started on the Arkansas River in Colorado. Beginner, intermediate, and advanced tours are departing daily on half-day, full-day, and overnight adventures. Kids as young as three years old can raft the Family Float. Read below for more Arkansas River rafting conditions.
Rafting Sale
10% off rafting tours
Enter promo code: Raft10
Raft any date now through Labor Day
Not valid with existing reservations
Arkansas River rafting conditions: Medium Flows
Conditions are changing by the hour. Go to riverbrain.com for the latest CFS report.
The Numbers (OPEN) – Ages 14+ / strong swimmer
The Numbers section of the Arkansas River just opened, which means it's serving up continuous class IV+ rapids right now. Book the Numbers rafting tour to get the best whitewater near Buena Vista, CO. The full-day trip goes through the Narrows after lunch.
Family Float – Ages 3+ / beginner
The Family Float is a great entry-level whitewater rafting trip. Experience continuous class II rapids on this one-hour beginner tour that ends at the River Runners Riverside Grill.
Browns Canyon – Ages 6+ / intermediate
Raft Browns Canyon National Monument for an epic family adventure. The current age limit is six years old for this classic whitewater run.
Bighorn Sheep Canyon – Ages 6+ / intermediate
Bighorn Sheep Canyon is the best family-friendly rafting trip near Colorado Springs. Expect lots of splashes on this section of the Arkansas River. Full-day and half-day trips depart daily.
The Royal Gorge (OPEN) – Ages 14+ / strong swimmer


Rafting the Royal Gorge is open! Experience class IV+ (V) whitewater through this spectacular canyon 1,000 feet below the Royal Gorge Bridge. If you are looking for the best whitewater on the river right now, book the Royal Gorge Tour.