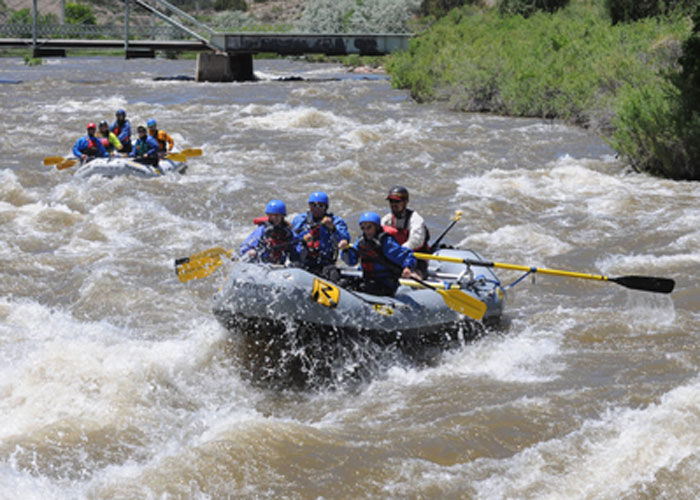 White Water rafting in Colorado extended, with excellent conditions.
Fall is in the air. The temperatures are dropping, leaves are starting to change and everything from coffee to bread is all of a sudden pumpkin flavored.
Colorado is an ideal destination for the family to escape to this fall.  Buena Vista, just two hours from Denver, is the perfect spot for a romantic couple to get away for a weekend. However, when you get tired of looking at leaves and drinking pumpkin coffee, come see us at River Runners to get your adrenaline fix with some world-class whitewater rafting.
Summer may be winding down, but whitewater rafting in Colorado is still heating up. With the amazing snowfall Colorado saw last season, combined with the hot temperatures this summer, runoff is still high, and River Runners Whitewater Rafting in Buena Vista is experiencing some of the best whitewater rafting conditions in years.
Come find your adventure with River Runners rafting along more than 100 miles of the Arkansas River. Encompassing some of the best whitewater and views that Colorado has to offer, River Runners offers a little something for everyone this fall.
Unprecedented Season 
The Arkansas River Outfitters Association deemed 2019 an "unprecedented season" for the Arkansas, and River Runners guides are expecting these amazing conditions to go through Labor Day and beyond.
Heading into the fall flows on the Arkansas River are 314 feet per second, which means the whitewater rafting conditions are still technical this late in the season.
Some lower flows make for a completely different river then you may see in the summer when the water is up. You will have to work to maneuver through the river, which creates a fun and challenging experience for the whole family.
The Arkansas River is one of Colorado's premier rivers fed by snowmelt from the state's highest mountains towering more than 14,000-feet above sea level. The river, flanked on all sides by breathtaking views, drops 4,650-feet throughout 100 miles. 
The Arkansas River is America's most popular whitewater rafting destination as more than 175,000 guests float the river annually. If you want to white water raft in Colorado, this is the river to do it on.
River Runners is proud to guide guests on Class I through Class V rafting adventures.
Colorado Whitewater has something for everyone
Rafting in Colorado is unlike any other experience. We have a little bit of everything here from meandering streams to impassable whitewater descents and everything in between. Since 1972, River Runners has been helping families choose the right adventure for their whitewater needs.
The international rating system for whitewater rapids is classed ranging from Class I, easy, to Class VI, which is extraordinarily difficult. Class II to V, in-between those two extremes, is where the majority of River Runners trips take place.
For those who prefer their water a little tamer, there are the "beginner/intermediate" trips. These whitewater adventures showcase Colorado from the comfort of Class I and Class II rapids. While these rapids are sure to move you down the river, they shouldn't get too challenging or deep. River Rafters will paddle through whitewater without concern while enjoying all the majestic views Colorado has to offer.
The adrenaline junkies will want to consider booking our advanced outing, which is the Class IV- Class V sections of the river. With a minimum age of 14-years-old for these trips, paddlers will have to earn their turns down the river as they maneuver through head-high waves and stomach-churning drops. Experience is encouraged for these trios considering the higher- class status can come with some challenging maneuvers for river rafters.
For those who feel the call to tackle some of Colorado's most difficult whitewater, then the Royal Gorge is where you belong.
Royal Gorge the Crown Jewel of the Arkansas
Perhaps the crown jewel of the Aransas River is the Royal Gorge. A marvel in and of itself, the gorge is home to the highest free suspension bridge in the nation. Throughout the course of history, the river has etched its way through the granite walls that shoot upwards of 1,200-feet from the banks at the bottom.
To view the Royal Gorge Bridge from below is worth the whitewater journey down the river alone.
The Royal Gorge has everything you could want in a Colorado whitewater rafting trip – big rapids, grand geologic features and intriguing human history. Experience the wonder of the Royal Gorge with the River Runners whitewater professionals.
The gorge is home to such legendary rapids as Sunshine Falls, Sledgehammer and Boat Eater. Here you will earn your merit as a Colorado Whitewater River Runner and will find your adventure to share with friends when you go home.
The Royal Gorge section of the Arkansas River is technically runnable year-round, although outfitters will shut down during the offseason.
Safety First 
Considering names like "Boat Eater" and "Sledgehammer," you may wonder if whitewater rafting safe.
At River Runners we take safety very seriously. There are of course inherent risks that come with whitewater rafting, and you will need to sign a waiver to participate, however, we work to mitigate risks by ensuring we find the right trip for you.
River Runners has age limits for some of our trips and it's recommended that you can swim before hitting the whitewater rapids. That being said, we provide each person with high-quality Coast Guard-approved personal flotation devices (pfds). Helmets are also required for every trip, except the Family Float.
River Runners offers some of the best guides in Colorado. Our guides have completed extensive training programs that more than doubles what the Colorado Parks and Wildlife requires. River Runners' guides navigate whitewater, obstacles and help keep everyone in the raft.
Ready for the best white water rafting in Colorado?
We take pride in offering the best white water experience in Colorado. Join us this fall for an unforgettable ride, we will provide you with outstanding adventures that will keep you coming back for more. Interested in booking a trip with us? Book online here or give us a call at (800) 723-8987. It's time to find your adventure!