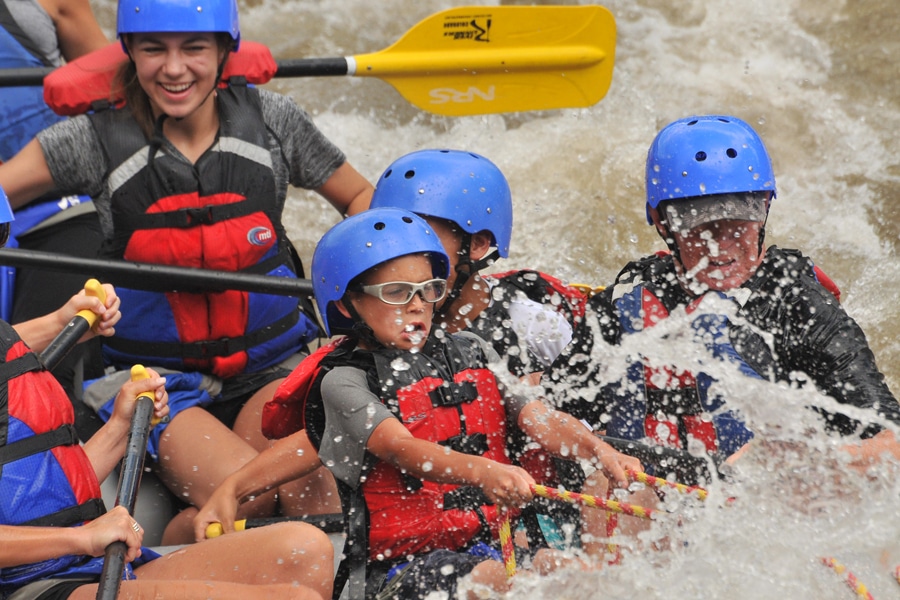 Raft Colorado's Arkansas River
Not quite sure what Colorado rafting trip to book? The Arkansas River is a great option, but with so many adventures to choose from, you should start by asking yourself a few questions. 
How long do I want to be on the water?
What type of craft would I like to be in?
What level of difficulty is appropriate for my group?
Where am I going to stay?
Book now and save
10% off online bookings – enter Raft10
Offer expires July 2, 2018
Length and difficulty
River Runners offers trips that last from one hour to three days ranging from beginner to advanced and everything in between. Consider the ability of everyone in your group before choosing your adventure.
Beginner / Intermediate
Family-freindly rafting trips
If you're looking for a nice calm section with a few little rapids, sign up for the Family Float (ages 3+), which is about 1.5 hours on the river – ending at the Browns Canyon Riverside Grill.
Do you want more excitement – but not too much – and more time on the water? Raft Browns Canyon (ages 6+) on a half day or full day tour.
If you are based out of Colorado Springs or like the idea of warmer water and air temps, you would enjoy rafting Big Horn Sheep Canyon (ages 6+) – located in Cañon City. Both of these trips can last from three to five hours depending on what option you choose.
Raft the Royal Gorge or the Numbers
If you are ready for lots of adventure, sign up to raft the Royal Gorge (ages 14+) located in Cañon City, or raft the Numbers (ages 14+) , located in Buena Vista. These adventurous trips offer class 4 rapids for a great experience on the water, lasting two to three hours on the half day or five hours on the full day.
Overnight camping on the river
Camp in Browns Canyon National Monument
Looking to camp under the stars? The 24 hours in Browns Canyon is the trip for you. This overnight rafting trip includes delicious meals, friendly guides, class 3 rapids and a whole lot of laughs.
Extend your time on the river with Two-day Intermediate or Two-day Advanced overnight rafting trip. Gather up five of your closest friends, give us a call and let us know when you want to have the most memorable weekend of your summer. Breakfast, lunch and dinner are provided and served to you. Camping gear is available for rent if needed.
The Three-day Ultimate Overnight Rafting Trip takes you on the best rafting sections the Arkansas River has to offer. The Numbers, Browns Canyon and the Royal Gorge.
SUP and Kayak
Be in charge of your own destiny
Want to learn a new skill? Book a stand-up paddleboard or inflatable kayak tour in Buena Vista, Coloardo. These adventures are perfect for those wanting to take their mode of river travel to the next level. Start by learning techniques in a calm eddy in front of River Runners. Then paddle down the Milk Run section on the Arkansas River right back to River Runners at Browns Canyon. Expect to spend about two hours on the river (ages 12+).
Where are you staying?
Rafting near Denver, Colorado Springs and Summit County
Location may play into your decision on what river trip to choose, especially if you have already booked your lodging. River Runners has four locations spanning more than 100 miles of the Arkansas River in Buena Vista, Salida and Cañon City, Colorado.
@ Buena Vista Adventure Hub – RAFT, OFF-ROAD AND RENTAL SHOP
1.5 hours from Summit County, 2 hours from Colorado Springs and 2 hours from Denver
BOOK ONLINE
@ Browns Canyon – RAFT, CAMP AND BAR AND GRILL
1.5 hours from Summit County, 2 hours from Colorado Springs and 2 hours from Denver
BOOK ONLINE
@ Salida – RENTAL SHOP AND BOOKING CENTER
2 hours from Colorado Springs, 2 hours from Denver and 2 hours from Colorado Springs
BOOK ONLINE
@ The Royal Gorge – RAFT BIGHORN SHEEP CANYON AND THE ROYAL GORGE
1 hour from Colorado Springs, 2 hours from Denver and 2 hours from Summit County
BOOK ONLINE
Follow us on Social Media for updates on flows, events and photos
Instagram: @RiverRunnersColorado
Facebook: River Runners Colorado