Adrift Adventures Jensen, Utah
Dinosaur National Monument
National Park Service Authorized Concessioner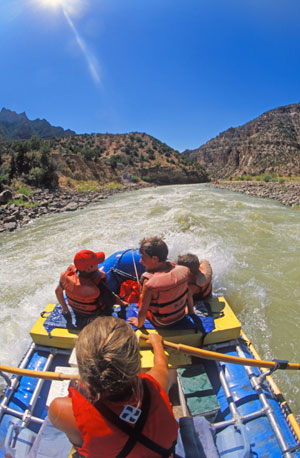 Located at the turn off to the Dinosaur Quarry at the Dinosaur National Monument in Jensen, Utah. Adrift Adventures is easy to find.
Since 1980, Adrift Adventures has been providing the highest quality, wilderness white water rafting vacations in Utah, Colorado for groups, families and the beginner or expert boater. Rafting trips range anywhere from 1 to 5 days in length and are located in some of the most pristine, uncrowded and awe-inspiring desert canyons in America. Many of the canyons have extensive Indian rock art and cultural sites.
The trips which we raft provide all levels of opportunities, from mild rapids to some of the wildest, most exciting white water the west has to offer. Adrift has rafting expeditions for all ages and abilities but one of our specialties are family rafting trips, limited to families with children and featuring sturdy rafts and special activities. We make learning about each canyon's environment and history fun, as it is another Adrift specialty.
Our group size is kept small, averaging about 18 people per trip, which allows us to give you more personalized service and helps us to minimize our impact on the often fragile environment. We work hard to protect our wild river heritage.
Dinosaur museums, horseback riding, hiking, Jeep tours, mountain biking, fishing, camping and boating are just a few activities you may experience on your vacation in the area.
If you have any questions please feel free to give us a call , our knowledgeable & friendly staff will recommend the best trip for your group. Our phones are staffed 8:00 AM-9:00 Mountain Standard Time seven days per week.
About Adrift Adventures
Adrift is proud to have been nominated for the 1997 Conde Nast Traveler Magazine Ecotourism Award and to have been featured in 1999, 2000 and 2001 TV programs. We think this indicates how we are good stewards of the canyons, the high quality of our trips and the great opportunities you have for not only a fun time, but to learn about the canyon wildlife, geology, Indian cultures and threats facing them in the future.
Adrift is a concessionaire with the National Park Service and a permittee of the Bureau of Land Management. Adrift has consistently received outstanding evaluations from the National Park Service, who strictly regulates and evaluates us, and from our guests. An example is a quote in our annual performance evaluation from Dennis Hoffman, superintendent of Dinosaur National Monument, who wrote "Adrift could be a model of how to take care of young kids and families. I would give Adrift an A+… Super job." K.H. from New York wrote us about his 4 day Family Trip;" We cannot describe in words what an unbelievable experience it was for our family. We have not stopped talking about the trip and all the great things that we did. You and your staff could not have been more professional and warm to us and made the trip one of the highlights of my life."
Another distinguishing feature of an Adrift trip is our guide crew. They are licensed professional who provide a unique, eclectic mix of world views, educational pursuits and life experiences. Our guides are the catalyst for good times and the key to your safety. Each is certified in Advanced First Aid(many are EMT's), CPR and most have Swiftwater Rescue certificates. They go through extensive pre-season training and we select only the best. Your guides will be more than happy to share their extensive personal knowledge and experiences about these rivers and canyons which you'll be rafting through. Local history, desert plants and wildlife, canyon geology, Fremont Indian culture, or even… Dinosaurs.
Adrift provides more boating options for you. Each multi-day trip gives you three boating options, so choose your level of participation, from "blue bullet" 2-person Inflatable Kayaks to exciting Paddle Rafts or the leisurely Oar Raft. Adrift Adventures offers complete trip packages which include everything that you and your group will need. From local airport pickup, to top-quality equipment, to professional and friendly guides, Adrift provides it all. Every meal includes a variety of healthy and satisfying entrees, supplemented with fresh produce, prepared by your very own guides. You'll be free from the home routine, with time to enjoy the more important things in life… exploring hidden canyons and isolated beaches, rapid thrills or just relaxing with friends and family.
Protecting Our Wild River Heritage
At Adrift Adventures we are especially dedicated to education and the preservation of our wild river heritage. This commitment is reflected in our philosophy and actions, and in the rivers on which we choose to operate. For example, a portion of our proceeds support various river conservation organizations such as American Rivers, the Utah Rivers Council and Friends of the River, in addition, we are actively involved in volunteer programs at several national parks. We support the organization Americans For National Parks in their mission for increasing protection of our national treasures.
We practice what we preach about responsible tourism by going to great lengths to minimize our impact on the often fragile environment, from packing out all our waste and recycling reusable items after the trip to fighting threats to the rivers. Every year the Adrift crew does a volunteer service project, such as our weed warrior project in 2001 and 2002.
Opportunities To Learn
An Adrift passion is to provide you with the widest variety of opportunities to learn about the fascinating wildlife, Indian cultures, early river runners and history of the rivers and canyons we operate in. The quality of our interpretation sets us apart from the rest. All of our guides pride themselves on their knowledge of the resources, and making it fun learning about them. We stop for optional hikes, visit nest sites, play environmental games with kids and know hidden cowboy cabins, just to name a few things we do. We also are up-to-date on current threats and status of park protection.
Where We Are Located
The Adrift Adventures office is located in the heart of Jensen, Utah and just a short paddle from Dinosaur National Monument. All Adrift trips meet at the Adrift Adventures office in Jensen, except for canoe, Cross Mtn., Gunnison, Alaska and international adventures. We're just a three hour drive from Salt Lake City or a six hour drive from Denver. See our map below to find out where we're located in relation to some major western U.S. cities.
A few miles west of Jensen, the Vernal Utah Airport is served by major airlines. We'll arrange airport pickup and hotel drop-off for guests arriving by airlines, at no extra charge and with prior notice. Call us to assist with your transportation planning and vacation suggestions. Click here for a Detailed Map of the Vernal and Dinosaur National National Monument area.
WHAT WE PROVIDE WHITEWATER RAFTING
Adrift provides the highest quality specialized rafting equipment, experienced guides, all meals from first to last day lunch and transportation from your meeting place and back. Overnight guest will be given a large waterproof dry bag to use while on the river for your personal gear. A "suggested equipment checklist" of recommended items to bring will accompany your trip confirmation or can be found on this website via a link under the trip schedule and listing. We also have available 2 person tents, polarguard sleeping bags and Thermarest pads for a small rental fee.
RAFTING TRIP RESPONSIBILITY
Although Adrift Adventures makes every effort to ensure a safe trip and we have an excellent safety record, white water boating, hiking and wilderness travel involve some risks. PHYSICAL CHALLENGES AND RISKS ARE INHERENT IN RAFTING and are the reason people seek this kind of adventure. You elect to participate in these activities at your own risk. Adrift Adventures Inc. and its agents are not responsible for injuries to participants, personal gear that gets wet or broken, or for travel delays. Trip and/or medical insurance is available. You must be in good health and all participants are required to sign an acknowledgment of risk prior to departure.