Hot Springs & Cool Rafting

The Perfect Colorado Vacation
Hot Springs
Mount Princeton Hot Springs Resort
When at River Runners, check out Colorado's favorite hot springs. The perfect addition to whitewater rafting is a stay at Mount Princeton Hot Springs Resort. Choose from day passes, creek-side cabins, cliff-side dwellings or hotel rooms at this rustic, but elegant resort. Get discount day passes at River Runners.
To book lodging call: 888-395-7799.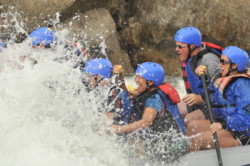 Cool Rafting
River Runners Buena Vista
Check off one of your must-do activities this summer on a Colorado whitewater rafting trip. River Runners Buena Vista is located right on the Arkansas River at the put-in for Browns Canyon rafting trips.
To book rafting call: 800-723-8987.