Royal Gorge Side-by-Side ATV Tours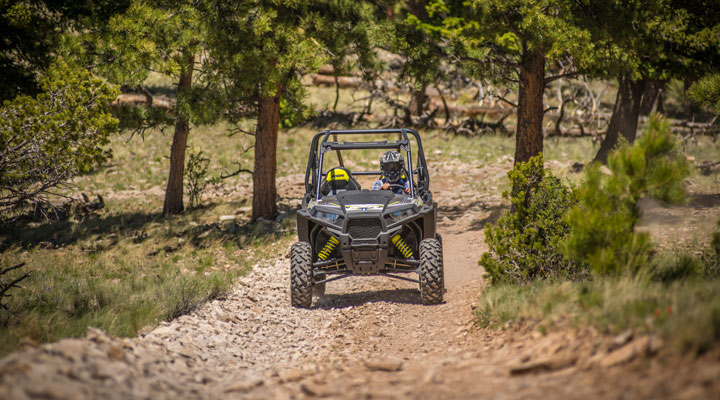 Quick trip facts:
Departs from River Runners at the Royal Gorge
1 hour on the trail
Drive or ride along in a Polaris RZR 4 900 Side-by-Side
Private OHV trails near the Royal Gorge
Gear included – no added rental fees
Drivers ages 16+ with valid driver's license
Passengers ages 8+
Minors must have a parent/guardian present
*Inherent risks exist. Participants (parent/guardian) must sign a waiver.
Side-by-Side Tours
Please book in advance
---
Call: (800) 723-8987
---
Half Day: 9:00 am & 2:00 pm
$49 / Passenger
$79 / Driver
Additional fees apply.
---
ADDITIONAL INSURANCE REQUIRED WITH EACH DRIVER RATE:
$15 per day ($4,000 Deductible)
$30 per day ($2,500 Deductible)
$60 per day ($1,500 Deductible).
---
Guided Side-by-Side Tours near the Royal Gorge

Brought to you by


Tour private trails 8 miles west of Cañon City, Colorado
This Side-by-Side ATV Tour is on private property right behind River Runners at the Royal Gorge – just four miles from the Royal Gorge Bridge and Park. It's a unique way to experience Colorado's backcountry with views of the Royal Gorge and the Sangre De Christo Mountains. Drive or ride along in a Polaris RZR 4 900 side-by-side on private ATV trails bordering BLM land. All side-by-sides have seat belts, roll cages and handlebars for passengers. This is safer than a traditional ATV or four-wheeler. You will encounter beginner to intermediate terrain. Participants must be at least eight years old. Drivers must be at least 16 years old (with a parent under 18). Be prepared for varied conditions and inclement weather.
What to wear
Long pants
Closed-toed shoes (no sandals)
Eye protection (glasses or sunglasses)
Gloves (optional)
What to bring
Water
Camera
Sunblock
Light jacket